In a scene from Bangalore Days, Aju (Dulquer Salmaan) and Kuttan (Nivin Pauly) are still sitting in the car without talking to each other for hours after the rift they had the previous night. Aju listens to a program in radio, turns to Kuttan and says, "Sorry". Kuttan turns, smiles and says, "You are welcome". This is one of my most favorite scenes from the movie. It said a lot about the bond the two cousins shared. Importantly it spoke about it without being melodramatic or being even slightly overstretched.
Anjali Menon can write. She can direct. She can do both pretty well. Compared to her debut in Manjadikuru , she brought in a lot of color and commercial value to Bangalore days. But her strength still remained her subtlety. She has written some of our finest dialogues ever and yet she does very well when less words are spoken too. She can bring out human relations on screen just like we see it in our lives.
Take this scene. Das (Fahad Faazil) has scolded Divya (Nazriya) for letting others in the apartment and spoiling the windows with drawings. The next morning, he wakes up to beautiful colors in the sunshine, walks towards the windows, smiles and then realizes his mistake. He leaves her a thank you note before leaving to office. When Divya reads it, she smiles. So do the viewers. Not a single word is spoken throughout. Anjali Menon just relies on Gopi Sunder's beautiful background score, her actors' expressions and her own writing to let viewers absorb into the budding romance between the spouses.
Let's look at another scene. When Divya is travelling to Kerala after finding about Das, Kuttan comes and sits near her seat in the bus. Divya asks "Did Aju call you?" Kuttan just nods. Just few words are used but once again Anjali Menon could use them to establish how close these cousins were. What is clever on Anjali's part is that she also had a story for Kuttan when he arrives at his home in Kerala.
Which is where I come to another aspect that I love about Anjali Menon's film-making – How she leaves no detail wasted. If she has shown you a minute detail earlier, trust she has a reason to connect it later and surprise you. If Divya's love for Mango juice is suggested by her cousins earlier , it is to let Das fill the fridge full with bottles of same and bring a smile on her later. The random girl who asks Kuttan if he is a Keralite at the beginning is one whom he finally marries at the end.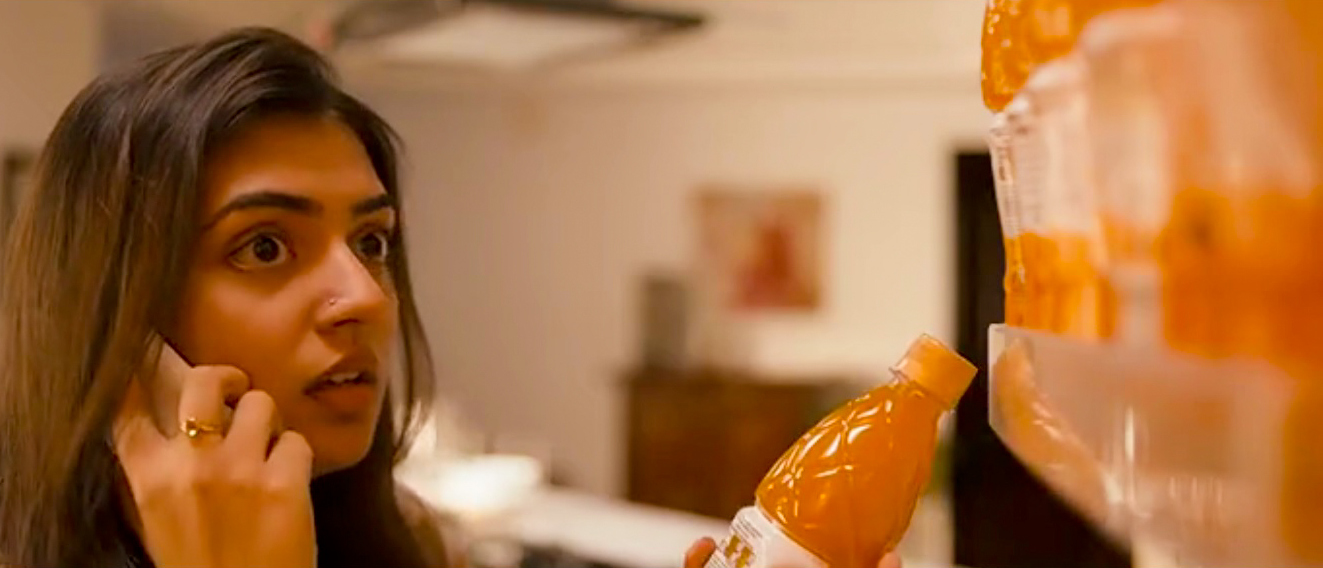 There were obviously reasons for why Das asked Divya not to put his pics in facebook or scolded her for racing with her cousins. The puppy Das gave Natasha and cuddled in the flashback scenes is the one which grows on to be the dog that ran to him and greeted him when he arrived to meet Natasha's parents. If Das tested the patience of the three cousins when he first crawled his car through the roads, he had the same people in his car when he showed his racing skills at the end. These all were among the things that made sure Bangalore days could grow on to have so much repeat value today.
There was never a doubt before about Anjali Menon's expertise in feel-good genre. But what surprised me was how she could also understand the pulse of the youth and picturize an extremely stylish bike race in the movie's climax starting from how Dulquer walks out to the track. Sameer Thahir's camera did aid her a great deal in this sequence. Her idea to cast Isha Talwar also helped her to use lines from Thattathin Marayathu and win few cheers.
Dulquer and Fahad did pretty neat jobs but it was Nivin Pauly who came out with what I believe is his finest performance till date. And how much do we miss Nazriya Nazim? The glitter on her face when her husband invites her for a dinner outside stays with you. So does her pain with which she looks at the photo of Fahad with Nithya Menon and says she has never seen him smiling. What a delight was it to see the talented Kalpana's comic timing being utilized after a long while. Usthad Hotel or Bangalore Days – Gopi Sunder does reserve his best for Anjali Menon's works.
When Kuttan first reads his letter from his father, he thought he was in distress. Next when Aju smells and realizes it is from Goa, he reads the same lines again in his father's voice. Now the tone is different, he realizes his father is happy, there is beach music in the background and a smile slowly sprouts in his face. This is the kind of output you get when the director in you is as good as the screenwriter. Which is why I have a huge complaint against Anjali Menon. That she doesn't make movies more often.

Follow me on Twitter:
Follow @fahir_me