** Major Spoilers ahead**
The first 45 minutes of Rorschach is unlike anything I have seen in films in a very long time. From the very first scene where Luke Antony (Mammootty) walks into a Police Station and reports his wife is missing, you are introduced to a very mysterious setting and even more mysterious characters. You are not given a clue about what are Luke Antony's intentions. With many dots to connect for such a long period, it is tough to hold the viewer's attention. But all credit to Sameer Abdul's writing and Nissam Basheer's making of a world you sink in, you are hooked to Rorschach from the word go.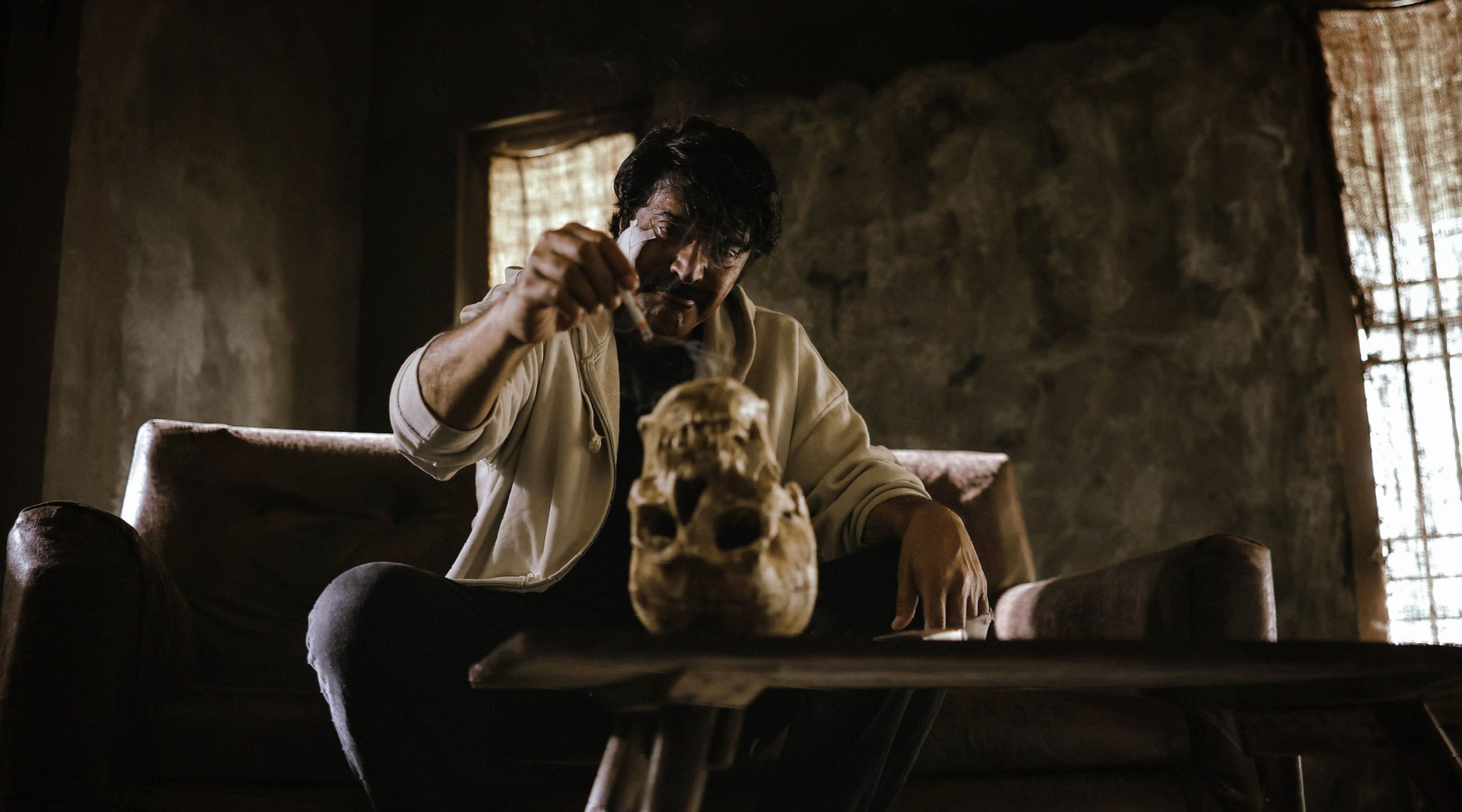 It is tough to believe this is Nisam Basheer's only second work when the mood and genre here are completely different from his debut. What Nissam Basheer achieves in Rorschach is a beautiful amalgamation of the efforts of a sound technical team. This is a rare case in recent times where every single department shines that the quality of each frame on screen is amazing. That unfinished house in the middle of nowhere, Luke Antony's ford mustang car, his costumes and the factory that runs under losses – The art direction in this film is an absolute treat giving complete justice to the genre of the film. When Nimish Ravi's camera follows the rooms in the haunted house, it succeeds in instilling fear in the viewers. Kiran Das's editing is then so smooth that when the rooms switch between the unfinished house in the village and Luke's extravagant big mansion in Dubai, the suspense keeps building with the aid of terrific editing as well.
Then there is the terrific background score and songs of Midhun Mukundan. What a great idea was it to use English songs for the film where the lyrics often tells the story of what is happening on screen at that moment. Then there are the performances. If Bindu Panicker doesn't win major awards this year for her stunning act in the scene with Ashraf (Jagadeesh) , it would be a surprise. Both Jagadeesh and Sharafudheen shine in their roles, Jagadeesh's dialogue delivery style deserving special mention. Grace Antony adds another good work to her growing repertoire.
But Rorschach finally belongs to Mammootty whose "Not everything not yet" mantra in choosing films and roles with sheer variety and delivering great performances continues to amaze any viewer who has grown witnessing a phenomenal career . The work in Rorschach is a few notches above the recent Bheeshmaparvam or Puzhu because he goes through a lot more varying emotions here. The actor changes like a chameleon on screen depending on whether a scene demands comedy, suspense or horror. This is Mammootty at his best.
Even in a film of this genre, Mammootty makes humor work in several scenes purely because of the way he delivers the lines ( A big chunk of credit to the writer Sameer Abdul too for the strong characterization). When Luke Antony tells Seetha that he should have been careful and not left her husband alone. When he sits near Sujatha (Grace Antony) in the hospital and invites her to breakfast. When he lurks around Shashankan's(Kottayam Naseer) shed knowing he has kept the money there. When he tells Sujatha's mother about his plans to take Sujatha to Dubai. In all these scenes, Mammootty brings in his brand of humor that he made work in Mayavi and other films. But he does it without losing the seriousness that the character requires in this film. This is not an easy task to do. But Mammootty uses all his experience to make it look effortless on screen.
Each time how Luke shouts at Dileep and vents his anger is also a sight to behold. In the climax where he talks once more about the night when he lost everything, he breaks down. He emotes brilliantly. But there is a conscious effort to not make this film everything about the performer in him. He moves on quickly and then turns to his beast mode where Luke is now ready to complete his final phase of revenge.
I envy the viewers who went into the film without hearing all the great things about Bindu Panicker putting in her career best work. Because then when Seetha is first shown very vaguely while the camera focuses on her husband, you wouldnt know that Bindu Panicker had a big role to play in the film. I wish the words – "Revenge" or "Revenge thriller" were not floated by the filmmakers in the posters in the last couple of days. Because the direction in which this film is heading would have been lot more difficult to catch hold of.
Rorschach is a film that the less you have heard about it , the more you would enjoy it. It is a film with a superior technical quality. It is a must watch. As for Mammootty, how he keeps gelling with the new generations of talent without showing any signs of rust or decline would continue to be a mystery that is as big as the one Rorschach has to offer.