Pathaan has a basic story that perhaps has nothing new to offer. It reminds you of the same template in Sidharth Anand's previous outing- War. But around this basic story, there are some details and touches in screenplay that works. First and foremost it is refreshing to see a well written clever villain in a superstar film after a long while ( reminding of Thuppakki in many ways). You have a villain who is one step ahead of the good guys and it is his clever tactics that brings most of the twists in this film.` John Abraham is rightly cast in the role and steals many scenes in perhaps his most effective work after Dhoom. He even gets a cracking background score, better than the one for protagonist.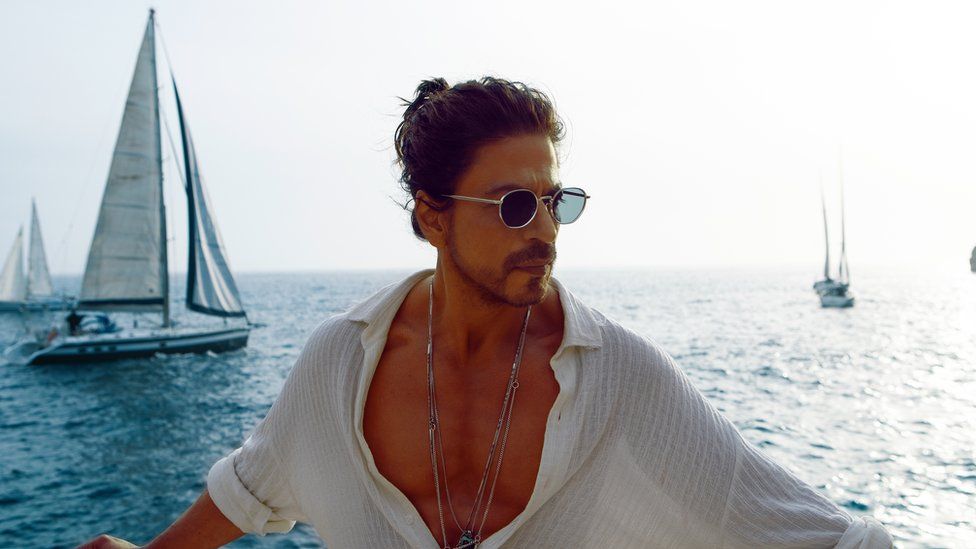 Meanwhile the hero is imperfect. He fails, he gets thrashed. He doesnt foresee some of the plans that the villain devises. He pumps himself and improvises each time to resolve the conflicts that is in front of him. Its this "Vulnerable hero-Clever villain" combo in Pathaan that makes up for any of its other shortcomings. There are few more tactics in the screenplay which works. For instance, a particular flashback scene where Pathaan talks of the people in Afghanistan who is like family to him – It is there because it has a need later in the film. Deepika Padukone has a half baked character. But she has much more to do in Pathaan compared to the completely male oriented film that War was. The dialogues by Abbas Tyrewala plays to the gallery and raises above the screenplay in many occassions.
Following War with Pathaan, it is safe to say that Siddarth Anand's orchestration of action scenes is now pretty close to the best in the country like Rajamouli and Prashanth Neel. Both the hand to hand combat scene between Shahrukh Khan and John Abraham and the car chase in Dubai are exquisite, so is the climax fight in the wooden house that is about to fall down. Siddarth Anand's prime motto in action direction -which I noticed in War too -is that he wants all his stunt scenes in different locations and different styles so that the varying scenery ensures that viewers dont get tired. The post interval train action scene with the cameo appearing on screen is totally paisa vasool ! On the VFX side though, I wish the makers had put in a little more pain. Wish the perfection that the Brahmastra team achieved was here.
Finally lets talk about Shah Rukh Khan's thumping return. There is his trademark humour. There is a callback to his trademark " K..K.. Kiran". There are emotional scenes. There is his charm that carries the film throughout. Shahrukh Khan is given a character that has several layers and he excels in what all comes his way. It is particularly inspiring when nothing else worked for him , he reinvented himself and worked hard for the stunts scenes. The results are now rewarding.
Shahrukh Khan's journey through last 10 years itself has all the makings of a mass action hero film. In 2013, when Chennai Express had completed its run, it was the second best grosser in the country behind 3 Idiots and Shah Rukh was still at the top of his stardom. In following years , you would see that he was never able to match up to the boxoffice success of Chennai Express again. His contemporaries Aamir Khan and Salman Khan churned up big grossers one after another. By 2018 when Zero also failed, Shahrukh Khan decided to take a 4 year break.
In these 4 years, further changes happened. Rajamouli's films now made money across the country and especially in North. KGF2 and Pushpa had the kind of rousing success in North which Bollywood films could no longer enjoy. Aamir Khan, Salman Khan and Akshay Kumar all started seeing failures. Brahmastra didnt really make the money that it should have. It is clear now the Hindi audience started preferring refreshing content in South than the same formula films in Hindi. It all came down to the perfect staging where Bollywood as a whole needed its biggest Superstar to come back and revive Bollywood.
The return was still not smooth. There were further roadblocks in form of right wing activits who wanted to bring the Besharam song and film down. There were direct attacks in theaters. As the first day of Pathaan finishes and if the initial reports are true, Pathaan has become the first Bollywood film to collect 100 crore worldwide. As Harsha Bhogle once quoted about Dhoni's finishing skills, Shahrukh Khan has basically said -" A lot of you have been playing this game. Let me take over and show how it is exactly done".
Pathaan is worth a watch for its great action set pieces and to witness the return of a great superstar. Dimple Kapadia says in the film-"We all thought Pathaan has disappeared when we didnt see him for few years. But we did not know he was writing a whole new book for himself".
You know for whom these lines were written for.