**Spoilers Ahead**
How Prashanth Neel stages the build up to a mass elevation scene is amazing. In KGF Chapter 2, before the epic police station scene, you are introduced to a guy who arrived at the KGF to do a sales pitch of guns to Rocky . In the police station, you see a kid who first tells the policemen that he will collect the money from them in the evening. When the kid overhears who is going to arrive at the policestation , he decides to not wait till evening and collects all the money then itself. These are two new characters whom Prashanth Neel has brought to his screenplay just minutes before to enhance the impact of what he is going to unfold next. Here is a mass entertainer filmmaker who know what is the most important thing in this genre and one area where he himself excels in – Screenplay writing.
The manner in which Prashanth Neel brings characters to screen with a definite plan of what he wants from them in the forthcoming sequences is what I find the most fascinating aspect in his writing. In the beginning of KGF Chapter 2 , you are introduced to a mother(Eashwari Rao) and son in KGF- both of them who were not in Chapter 1. It is to Prashanth's credit that you wouldnt feel they are entirely new characters and instead make you believe that you knew them for long. The mother loves her son but the son is so loyal to Rocky and is ready to sacrifice his life for him. He admires and respects Rocky for the change he has brought to the lives of people in KGF who were just prisoners before. Prashanth then continues to use this mother-son plot for several key moments in the film.
Now take Ramika Sen, another important character who is one of Rocky's major enemies. You hear her name through the first half, but Raveena Tandon is actually shown on screen the first time only in the second half and that too after several minutes from the interval point. This is another interesting technique in how to never let your viewers go off the hook or feel disengaged. You are introducing such a pivotal character in the last one hour and new plot turns and events start from there. So its almost impossible for the viewers to take their mind off the film. It also helps that Ramika sen is played by a superb Raveena Tandon – who outscores Sanjay Dutt ( as Adheera) thanks to both her performance and the scenes that are written for her.
Prashanth Neel's clever film-making techniques still dont end there. He lets the viewers revive memories of the iconic 'Dheera Dheera' song (alas Rocky's transformation) sequence from Chapter 1 again through 'Toofan' song. The bunch of kids enact Rocky's heroics to Reena Desai( Srinidhi Shetty) in the process where she also learns about Rocky more. To bring back that same old man whom Rocky saved in Chapter 1 to talk in front of the villains at the start of Toofan song is just typical Prashanth Neel not letting his viewers to rest between their claps and whistles.
Like in Chapter 1, Prashant Neel also relies heavily on swift editing between different locations or frames to elevate a scene further. When Vijayendra Ingalagi (Prakash Raj), Deepa Hegde (Malavika Avinash) and co are searching for the KGF Chapter 2 book, it is at the same time that you are shown the evacuation location in the KGF where they find Rocky's old statue. When Reena's fiancee says how he plans to kill Rocky off, its that same moment the helicopter lands and Yash steps out for his intro. The dialogues are once again sharper and plays to the gallery. Imagine how well you know the pulse of viewers when you write the scene where Rocky tells to a white guy-" I am the CEO of India" – just before he walks into Ramika Sen's room. Coming to the technical departments- the set pieces, the production design , the scale , the stunts are all grandier and richer than Chapter 1.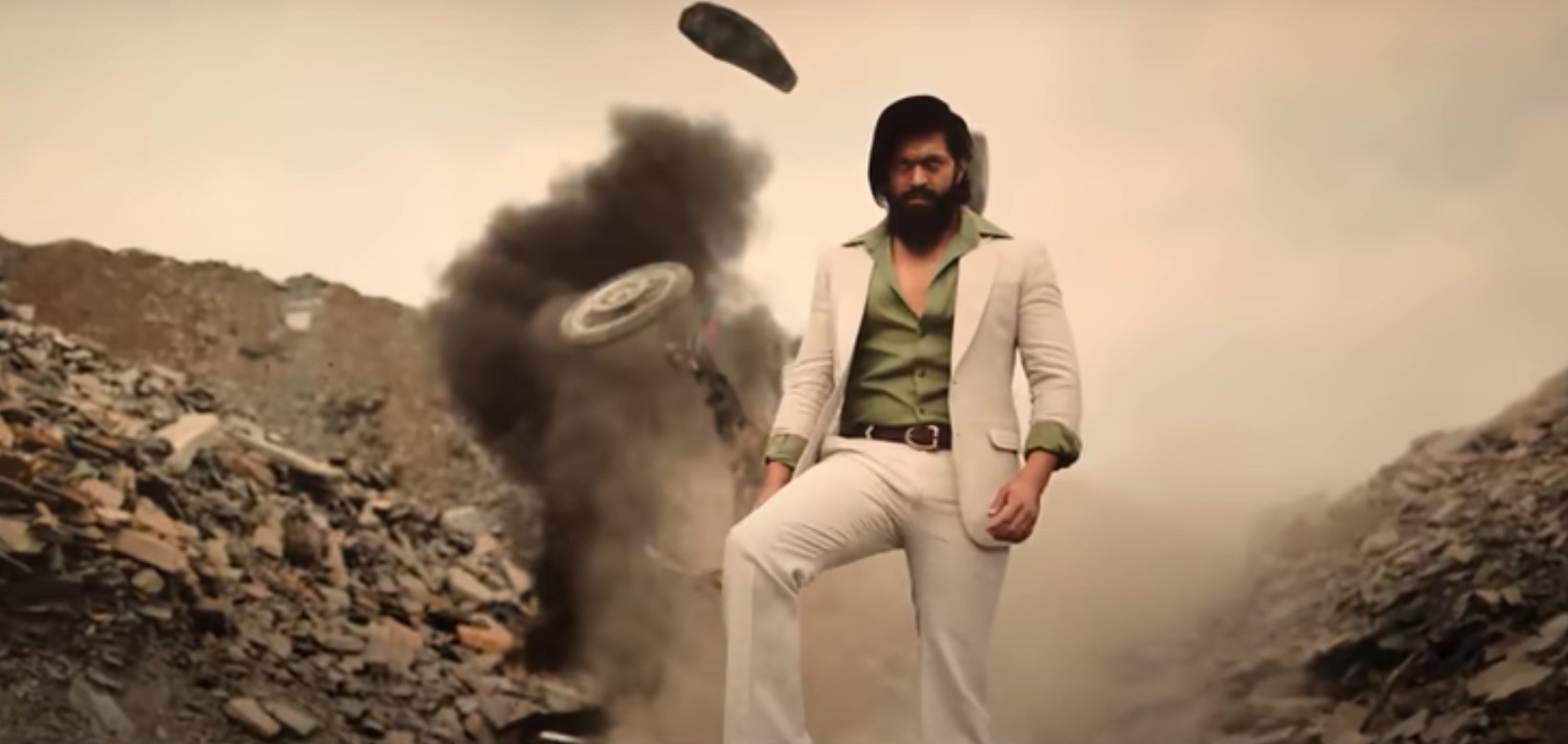 Finally KGF series is as much Yash's as it is Prashanth Neel's. The actor and director compliment each other so well that you cannot imagine this franchise with another lead actor in place of Rocky. Yash brings the style and attitude in mass scenes. Just the way he walks into the room in the intro scene as "Rocking Star Yash" displays on screen is enough to make the cinema halls go crazy. Yash has great physique and his stunts are entirely convincing. He delivers both the mass dialogues and emotional dialogues with equal panache. It also helps how Prashanth has Rocky's characterization in complete sync from Chapter 1. Rocky is greedy and would push his men mercilessily to keep making more gold. But you can also hear him saying how he would not hurt a woman or a child even if he is a ruthless criminal -which reminds you of how he helps the lady in the bun scene from Chapter 1.
But at the end, I still have to say that I found KGF Chapter 1 a few notches above Chapter 2. Despite so many goosebump evoking scenes in Chapter 2 , I thought none of them really matched the emotional depth of the bun scene or the Dheera Dheera song scene in Chapter 1. Also when Ravi Basrur's music and BGM was extra-ordinary and easy to ears in Chapter 1, I wonder why the background score was louder for most part in Chapter 2. While all the Chapter 1 songs had great quality, the Chapter 2 songs sounded more like louder remix versions of the first part.
As Prashanth Neel said in an interview, his film making style is inspired a lot from the old Hindi action film era where Amitabh Bachchan used to play the angry young man. In hindsight, KGF series is Amitabh Bachchan's Agneepath told in a slightly different manner. The Gangster storyline, the poor kid in the streets who fought his way up ,the rags to riches story, the bond with mother- KGF is similar to Agneepath just like Baahubali is similar to Lion King. It makes sense that KGF has worked so well with the North India circuits who perhaps missed those genre movies from the start of 90s as the Khan trio arrived and started a successful wave of romance movies. KGF was their chance to go back to an era they all loved.
Between 2015 and 2017 with Baahubali 1 and 2 movies , SS Rajamouli bridged the gap between South Indian Cinema and Bollywood with his goosebump evoking film-making style and an imagination and vision few directors in India had before. At that point, it clearly looked that Rajamouli was leaps and bounds above other filmmakers in the big scale genre and in the way they could connect with viewers across the country. Little did we know that only a year later there was a one film old filmmaker in Kannada industry – who would raise his hand with his film franchise and say in Rocky's style – "May I come in".
Also Read on KGF Chapter 1's two brilliant goosebumps evoking moments