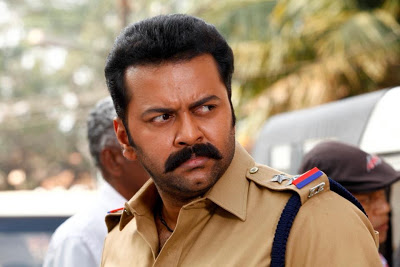 I watched Left Right Left yesterday. Indrajith's portrayal as Vattu Jayan is just awesome and one of the most talked about performances this year. Presenting us with one memorable performance after other in recent years, this dedicated young actor never ceases to amaze you. It was then this question popped up my mind – Indrajith has been around in Malayalam Industry for 12 years and been part of many successful multi hero projects .But why is it that he had not been able to deliver a big solo hit yet ?
A few days back I saw a post in a forum where the person went on to heap praise on Indrajith stating him as the best young actor we have in Malayalam today .The first comment to the post was this – 'Let Indrajith act as a solo hero in a movie and you would see all vacant seats in the theater even in the first day'. That comment might be unfair to the talented actor but nevertheless it is also the truth.
Whether its commercial or artistic movies – Chekavar, Nayakan, Malabar wedding or Karmayogi – all solo ventures have backfired for the actor. Big directors like Lal Jose have consistently cast Indrajith in their movies along with other heroes but when it comes to solo hero projects, they comfortably avoid him and move to others.
Prithviraj is undoubtedly the most successful young actor we have in Malayalam today. Apart from delivering several solo hits and portraying memorable roles in Malayalam, Prithviraj also has carved out a niche in Tamil too being part of prestigious projects and even made the much coveted entry to Bollywood too. But once in an interview , Prithviraj mentioned that he feels his brother is a better actor than himself. So why has Indrajith not been able to attain anywhere around Prithviraj's success – Is it because he doesn't have the latter's sophisticated or sleek looks ?
Malayalam has never been an industry where only heroes with perfect looks had given big hits evident from the fact that Sreenivasan, Nedumudi Venu and several others had carved out boxoffice successes on their own. Another great example for this in recent times is Fahad Fazil's success in solo hero projects like 'Diamond Necklace' and '22 FK' despite persisting with his bald look.

It was in 2003's 'Mizhi Randilum' where I first noticed the actor in Indrajith in a small but memorable role. Then in 2006's 'Classmates' , he was a complete revelation and his revived comic timing was top-notch. We saw more of such hilarious performances in 'Happy Husbands' and 'Bachelor party'. In between , the actor did not also forget to show us his serious side with some brilliant works in 'Nayakan', 'Ee Adutha Kalathu' ,'Chandu Pottu' and 'Akashathinte niram'. Even in this year's 'Amen', Indrajith continued to impress us with his charm and now the recent 'Left right Left' has perhaps his best work till date.
So when Indrajith is only bettering his own performances with his every other movie, why is it that the big boxoffice success always been eluding him ? Well, it is as much as a mystery to me as it is to anyone else and its tough to find one reason than pure misfortune. Let's just hope for one thing – that Indrajith never loses his heart and continues his great work as he always had.
Let's hope he realizes that its equally or even more important than solo hits to have portrayed memorable characters and delivered performances that his future generation can look back and admire . When it comes to that , Indrajith does have some of those up his sleeve already. As they say it might be just a matter of one Friday where that elusive hit is just around the corner.