Most popular Tamil leading actors have a familiar pattern to their careers. They start with normal earthy roles. They get to do experimental roles and just play a character in the screenplay in the initial part of their careers. But once they get the fame, popularity and fan following, things change. Now they get a fitter physique and better looks. No matter the story, their movies are bound to have a romance track . Their movies would feature action sequences and dance-song routines in regular intervals.
Vijay Sethupathi is different here. In a big way.
His latest movie, Vikram Vedha is a delicious thriller and the actor has put in another terrific performance. Vijay Sethupathi gets loud cheers and applause in his introduction which shows that he has a mass fan following now. But he is still not your normal conventional hero. Here he shares screen with another big hero which itself is a rare feat in Tamil Cinema. He is slightly overweight. He has no heroine cast opposite to him in the movie. Yes you read that right. In fact he asks other characters in the movie whether they want to hear his love story and no one seems interested too!
What you could be also sure about Vijay Sethupathi is not to do a similar movie again in immediate future. Vijay had spent a good part of his initial career being a supporting artist . But ever since he got his first break in Pizza, how he finds himself among such rich variety of screenplays and roles is beyond us!
Take some of his movies between 2012 and 2015. Pizza was a horror movie and he played a pizza delivery boy. In Naduvula Konjam Pakkatha Kaanom, he was a guy with retrograde amnesia and short-term memory loss. In Soodhu Kavvum, he was a low profile kidnapper. Pannaiyarum Padminiyum was a village based movie where he played a driver.
In Orange Mittai, he was an old man who fakes his health condition so that he gets someone to talk with. In Naanum Rowdy Thaan, he is a young man who would go any distance for the girl he loves. This is seriously diverse genres for any actor and almost all these movies found great acceptance with viewers.
Sethupathi which released in early 2016 was perhaps the most significant movie in his career .This movie could have decided the direction in which the actor could go next. It was a mass action movie, he played a police officer and the movie was a big hit. It is the kind of the make or break movie where any other Tamil actor would have finally transformed to the "Star". But Vijay Sethupathi decided to stay to his roots.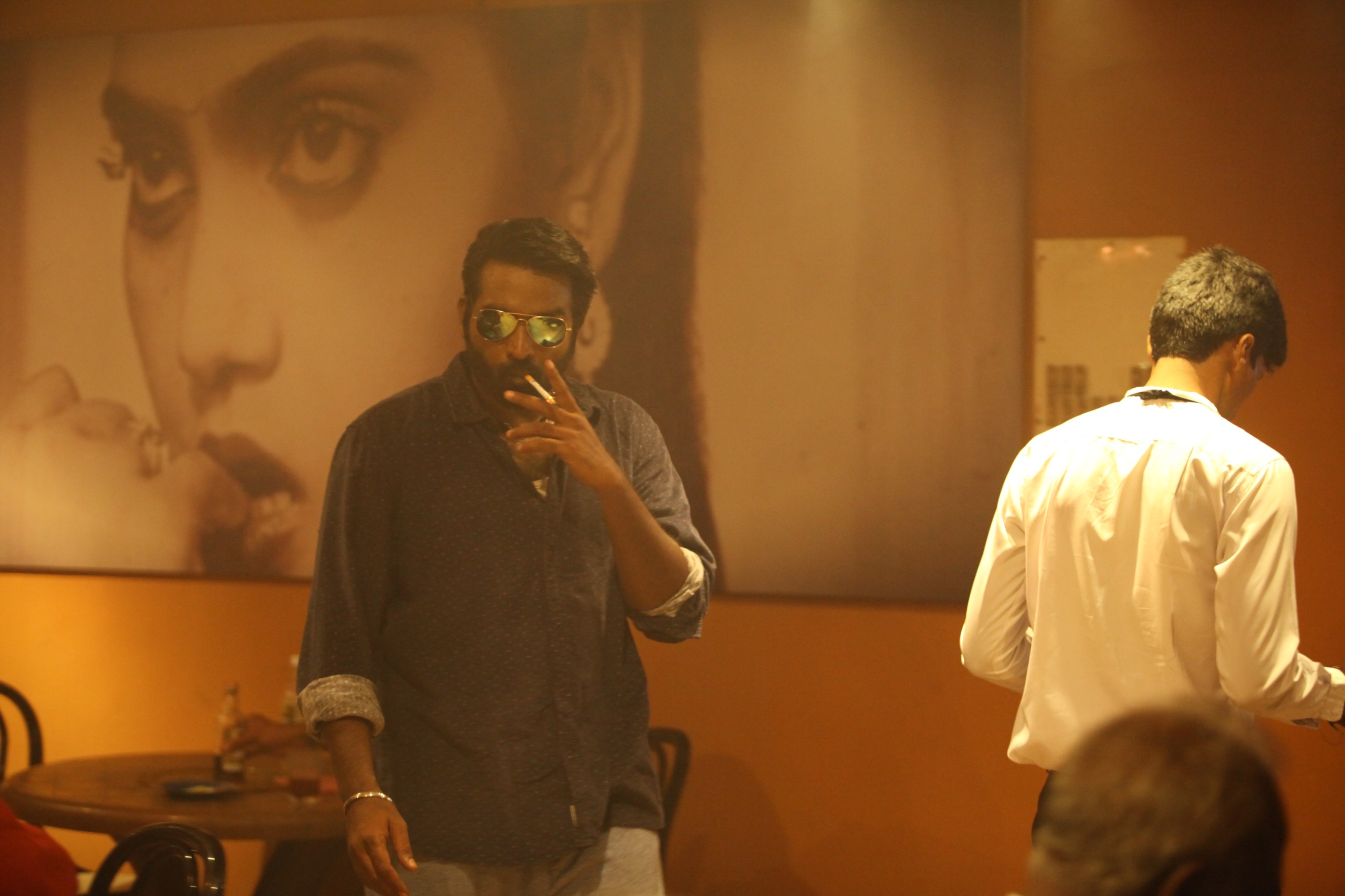 In his very next movie, Kadhalum Kadandhu Pogum, he played a hilarious rowdy. Who could forget the sequence where he walks in slow motion to a bar, gets beating from all the guys, stands up, wears his sunglass and then again walks out in slow motion. Which other top leading actor does that anymore?
Then came Iraivi and he just subtly played one of the characters in Karthik Subbaraj's brilliant drama. His Aandavan Kattalai the same year reminded of a 90's Kamal Haasan comedy in how there was no slapstick, no crass humor but the laughs came out of life like situations and dialogues in the story.
That's about the distinct genres he is part of. We have not yet started on what a fine actor Vijay Sethupathi is !  In Naduvula Konjam Pakkatha Kaanom, he tells the lines that start with "Enna achu, Cricket velayadinam" so many times but yet it is a gift to make the viewers not irritated or bored by it. In Kadhalum Kadandhu Pogum, when he completely tangles and messes up the lines Madonna asked him to mug up, he has a straight face. But the viewers were not just able to stop laughing.
In Aandavan Kattalai, when he finally opens up completely before Ritika and proposes, we had a smile just like Ritika. In Kaavan, his attitude when he tries to expose a politician in his interview is seriously heavy. In Vikram Vedha , whenever he talks about his beloved brother, his voice stammers and our hearts melt.
Vijay Sethupathi has had his share of few mediocre movies. But more often than not, he has been able to be surprise us with movie experiences that looks different from his previous ones. Usually in most movies you see heroes just doing all the fights in the factory godowns. In Vikram Vedha, you don't see his fight but after that he is sitting there telling Madhavan- " Are these factory godowns made for work or for people like us to just fight". That's how different this actor has been throughout his career.
Vijay Sethupathi is in a league of his own.
Follow me on Twitter:
Follow @fahir_me