History has shown that if you leave your viewers with a tame ending ,chances are quite a lot that people tend to forget whatever great things you had shown them otherwise before in the movie. On the other hand , if you keep your best moments to the end ,let your audience leave on a high note and let these moments haunt them for long , it has often done wonders!
Here is a look at some of the most memorable endings in Malayalam Cinema – the ones that has stayed with us forever since the first time we have seen them.

1. INNALE
Who other than the great Late Padmarajan to start with ? Padmarajan had been a master in this art – in leaving his audience spellbound at the end of his movies and among the several memorable endings he had given us , Innale do stand out as perhaps the best. In Innale when Narendran realizes that his wife don't remember him even vaguely and when he leaves the house in haste with a broken heart , it leaves a lump in our throat no matter how many times we have already watched it and also turns the graph of the movie that had not been extra-ordinary until then soar lot high all of a sudden. Suresh Gopi has rarely been this great in a non-police role. His riveting performance along with Padmarajan ,the master craftsman's excellent execution and Perumbavoor G. Raveendranath's haunting background score makes Innale's climax one of the most heart-wrenching climaxes ever in Malayalam Cinema.

2. KIREEDAM
'Ninte achanaada parayunne kathi thaazhe ideda' – tells a helpless Achuthan Nair to his son, Sethumadhavan in the closing scene of Kireedam. Sethumadhavan has just stabbed and killed the criminal who ruined his life but is still in a violent mental state and pointing the knife vigorously to his father. He finally listens to his dad, drops it and then cries out loud to the sky. Its such a powerful moment .A young man who had big ambitions in life has now turned a murderer and a father's dreams of seeing his son becoming a police inspector has shattered.The complete movie has been shaped up as a build up to this finish.The entire market and crowd has all been staged perfectly and any other actors in place of Mohanlal and Thilakan might have toned down the impact.The end result is yet another heartbreaking climax that continues to haunt us for all these years.

3. ANIYATHIPRAVU
A lot of good movies look outdated after years but there are scenes which stand out from the rest of the movie and continue to amaze us. Aniyathipravu's climax is one such. It is once again a fine example of how a terrific climax can turn the fate of an entire movie. Aniyathipravu started like any other normal romantic movie . A girl and boy fell in love and they decide to elope when their parents object. But Fazil gave us the first surprise when the couple decided to part ways and return to their parents. In the climax when Srividya asks KPAC Lalitha to give away her daughter and when the latter agrees immediately, Fazil stunned us all saying there is still another amazing manner in which a love story could culminate. Scenes like this also remind us how much we miss the versatile artists like Thilakan and Srividya. Its unfortunate that Fazil , the man behind so many classics including Manichitrataazhu, never found his touch after Aniyathipravu
4. KAAZHCHA
I watched Kazhcha the first time from Ernakulam Saritha back in 2004. When I came out of the movie with my friends ,I did not have a clue to where I was walking or what others were talking for the next few minutes as all I had in my mind was two images from the movie's climax – First that of the small kid who waves Madhavan bye for the final time as his smile slowly disappears. Second that of the man throwing the paper with Madhavan's address to the waste bin. Kazhcha showed us the stark realities of life where our society would not allow a family the right to adopt the child whom they love despite no one else being there to take care of him. Mammootty as always was terrific in a role that demanded histrionics but what also melted our hearts was master Yash's brilliant portrayal of Kochundrapi who surprisingly matched up to the veteran. Blessy made a remarkable entry to Malayalam Cinema giving us a heartbreaking ending that stayed with us for really long .I still believe Kazhcha is his best film till date.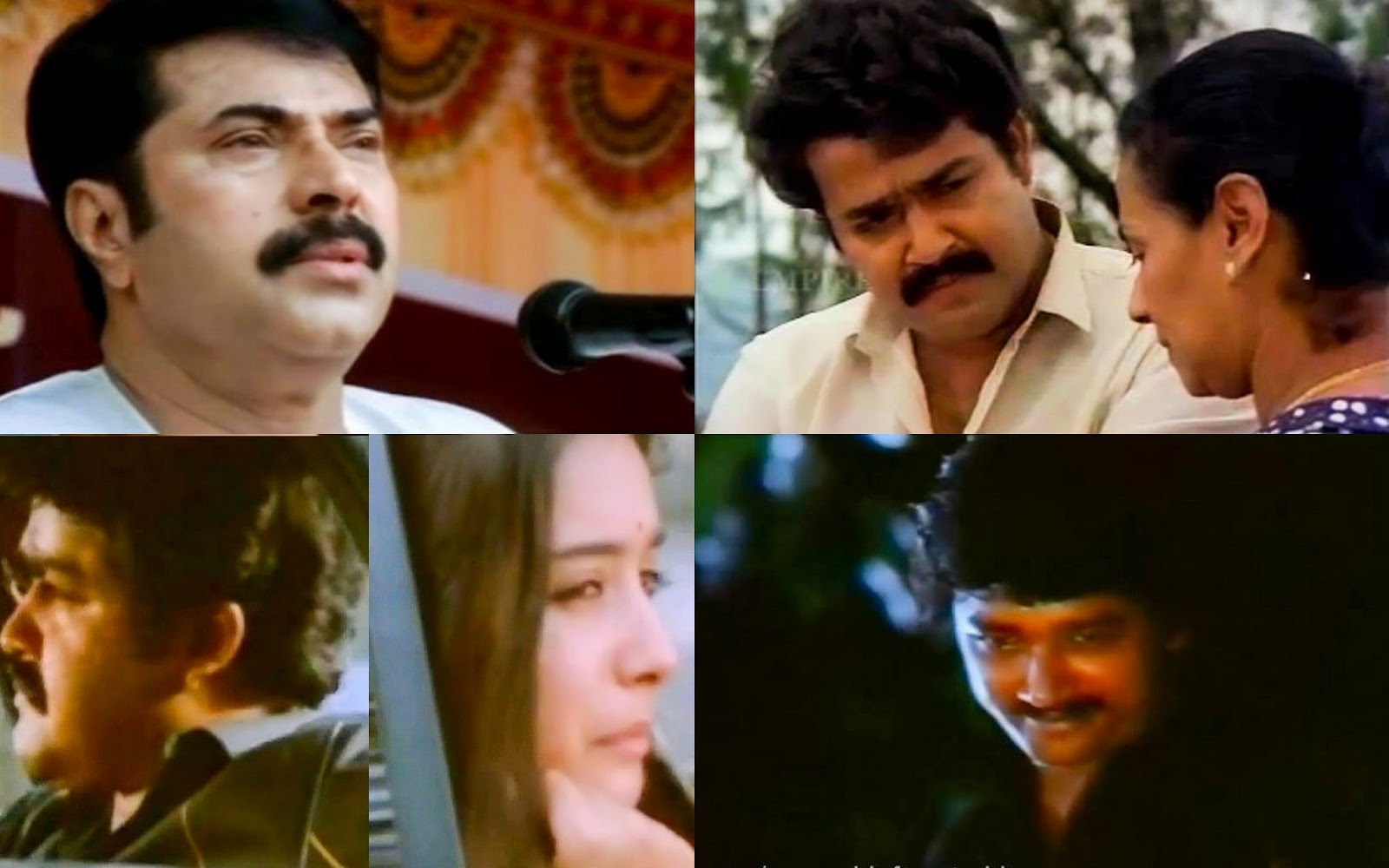 5. KATHA PARAYUMBOL
At the time of Katha Parayumbol's release ,Sreenivasan said that he had no one else in mind to play Ashok Raj other than Mammootty. You could watch Mammootty's speech at the school in movie's climax and you would know why. There are very few actors in the business who could bring audience to tears so easily like Mammootty and Sreenivasan's script exploited his gift pretty well. What this scene and Mammootty's cameo did was it turned a movie that one thought would end up as an average fare to a beautiful tale of two friends – one who never wanted to benefit from his friend's popularity and the other who always had a huge place in his heart for his childhood friend even after attaining great heights.

6. VANDANAM
The hero and heroine sitting in adjacent cars at the same traffic signal before parting ways forever is as cinematic as it gets but nevertheless Vandanam's climax had tremendous impact.A lot of us did really wish that at least one of them looked in the other's direction. Priyadarshan always had a penchant for tragic endings but what worked here in his favor was that he had a leading actor who is as excellent in romance as in any other department and who could form a great chemistry with almost every other heroine during the 80s and 90s. It's this reason the scene where Mohanlal after great struggle breaks into his room and pick the phone just to find it disconnected and the final scene where he and Girija moves away in opposite directions stay with us forever. And once again Johnson master's brilliant background music magnifies the actors' and director's efforts multifold on screen.

7. APARAN
You just cannot keep Padmarajan out for long when it comes to stunning endings. Yet another Padmarajan Classic – Aparan's novelty lied in how Padmarajan never showed us the villain till the end but still succeeded in instilling fear and hatred in the viewers. The technique of open endings would be so common today but when Padmarajan used it long back in 1988, it was just another signs of how this man thought and imagined ahead of his time.When Jayaram walks around the cremation site and smiles at the end of what had been a fabulous debut , you are left to wonder who is dead – Vishwanathan or his impostor .You dont know if that smile indicated Vishwanathan's happiness in getting rid of the villain or the evil smile of the 'aparan' himself. You have to keep guessing and that's what the master filmmaker also wanted you to do. The chilling background music adds humongously to the impact and no prizes for guessing who is behind that, its once again the great Johnson Master.

8. DASHARATHAM
Tamil star Surya once told in a talk show that during his early days as an actor, his biggest challenge was not knowing how to use his hands in each scenes, when to let them free and when to put them in pockets. That's when he watched closely how Mohanlal acted in his movies and found that Mohanlal's hands, arms and his entire body flow like music. He then added -'Mohanlal sir's fingers and even finger nails can act'. In Dasharatham's climax as Mohanlal rests his hand on Sukumari's shoulder and tells her -" Annie mone snehikunna pole Maggieku enne snehikaamo' ,watch his fingers and you would know what Surya is talking about. Mohanlal's exceptionally brilliant acting quite ably supported by the ever versatile Sukumari , a hauntingly beautiful background score yet again by the great Johnson Master and a heart-wrenching ending by Lohithadas who told a story that was much ahead of its times – All these make sure that most of us gladly revisit Dasharatham's climax over and again even as we are entirely aware that it would end us up only in tears.