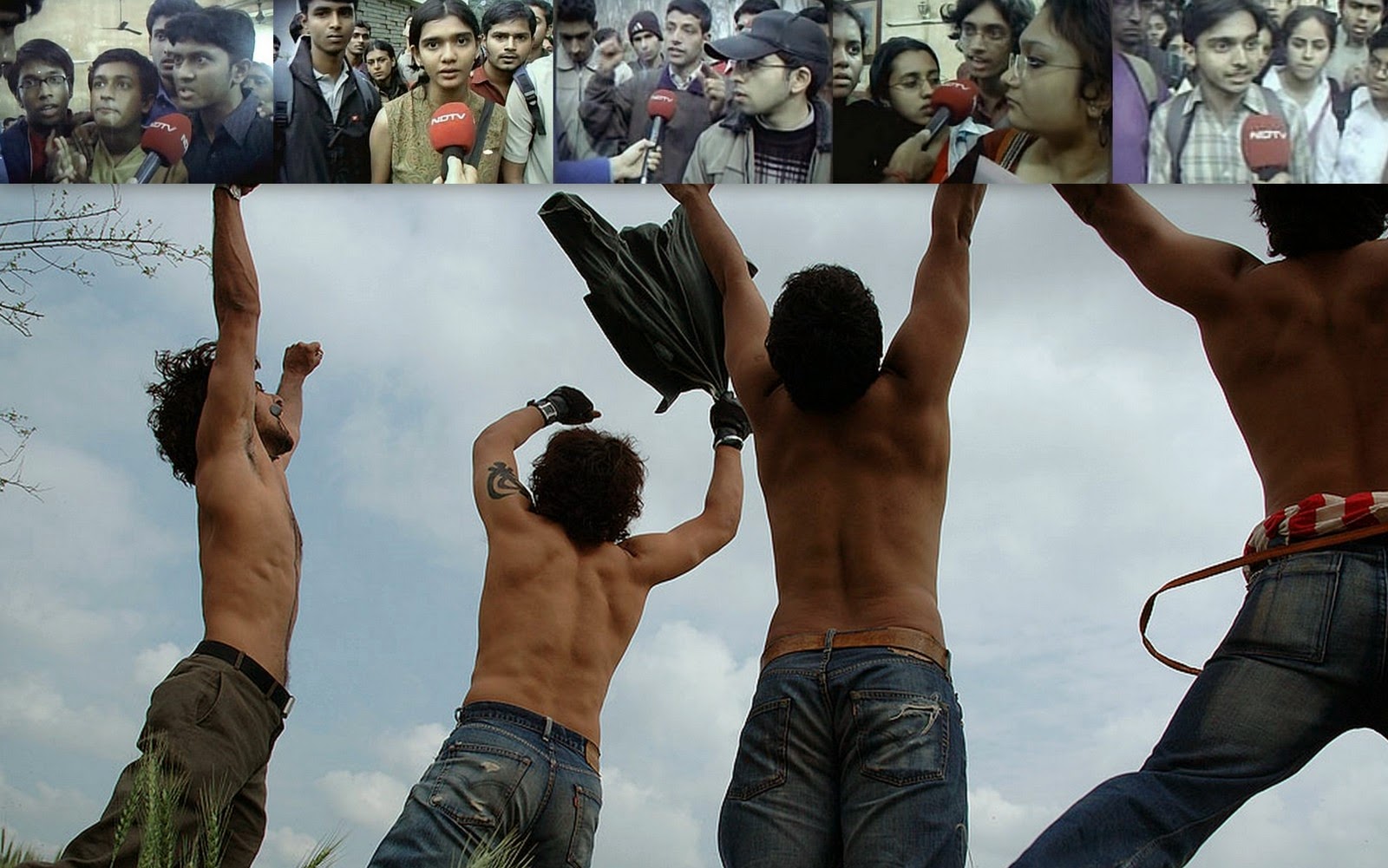 "The Fire that you have ignited in our minds and hearts – that's not gonna phase out soon. And we will see that your dreams go to an end"
In the closing sequences of Rang De Basanti, the protagonists are all dead. We are shown the faces of their beloved ones and parents for few seconds. Then in what is my most favorite work by the maestro, A.R Rahman's terrific theme music which could give goosebumps on its own sprouts out in the background . We are zoomed into the media clippings of how the youth from the nation would react to the heroics of the lead characters. A bunch of young men and women do a great job in realistically capturing the entire essence of the movie. Quite importantly Rakeysh Omprakash Mehra showed glimpses of how this movie would stir an entire nation in the coming months and years.
Rang De Basanti has often been dubbed as a 'Movie that became a Movement' and rightly so. One of our brightest ever examples on how the medium of Cinema can create an influence in the actions of our society, Rang De Basanti took the youth to streets to protest on social issues and showed a surge in their fury towards corrupted system and politicians.
When the man convicted in 1999's Jessica Lall's case walked scout free in 2006 ,a month after Rang De Basanti's release, people united and started a movement through silent candle light vigils in New Delhi 's India Gate taking a cue directly from a scene in the movie. Result – the case was re-opened and in December , the man was convicted and sentenced to life imprisonment. In a survey conducted to study the reason behind the sudden awakening , nearly twenty percent voted Rang De Basanti as the reason. Similar impacts were seen in other trial cases too and some believe even 2011's Anna Hazare Movement was inspired in many ways from the movie.
So what set Rang De Basanti apart from other patriotic and inspirational movies that has come before and after and placed it more rooted in the hearts of the viewers? The answer is simple. The youth could completely relate to the lead characters on screen. When the gang laugh while rendering the dramatic lines by revolutionaries during their practice for the documentary, many of us could see ourselves on screen.
When Siddarth tells Madhavan this country has no future, he is asked back "Then why don't you do something then for your country?". Siddarth turns speechless which would have been our reaction too if asked that question. After they went on air in the radio station and revealed that they killed the defense minister , they did not quickly flee the scene which showed they were not really smart or clever like many Bollywood heroes. They were just normal human beings who wanted to vent their anger on the system in their own way.
Aamir Khan had sacrificed and lost 4 years for his previous venture – Mangal Pandey which turned out to be a colossal debacle. Any one would have needed more time to recover and bounce back. Not Aamir Khan. In a movie that mostly had new names, his mere presence made a whole lot of difference to reach the movie to a bigger audience and he gladly allowed his co-actors especially Siddarth take center stage at many important portions of the movie.
Towards the end of the movie, his character says – "Zindagi heene ke do hee tareeke hote hai.Ek- jo ho raha hai ..hone do.. bardaasht karthe jao… Ya phir zimmedari utao ..use badalneki".. If the movies and TV show he had been part of post Rang De Basanti are any indication, even Aamir Khan had shown signs of being inspired by the movie.
P.S – Among the many other things that Rang De Basanti did right, it also chose the perfect date to come out to the audience. This January 26th on the Republic day, Rang De Basanti completes 9 years.