When someone once made a list of  '50+ things only a Proud Mallu will understand', the first in the list was a photo of Mohanlal with the caption – 'This man is part of your daily life. Literally'. That just sums it up. From a career that has entertained us for over 36 years, here's a look back at some of the actor's magical acting moments – my most favorite ones.
16. COMPANY – The interrogation Scene
Ram Gopal Varma had watched only one movie (Vandanam) of Mohanlal before. But he still rightly chose the actor for his Srinivasan IPS in Company. Mohanlal's composed and dignified persona fitted the character to a T that you would forget the fact that the actor did not have much command over the language. The result was his best portrayal of a police officer. A particularly memorable scene is one where Malik(Ajay Devgan) and his gang is brought for interrogation in his office. Mohanlal takes his sweet time in asking questions, take pauses in between and plays with a tiny showpiece in his hand while keeping everyone on their toes.
15. SUMMER IN BETHLEHEM – The Stunning Cameo As Niranjan
'Naalu vayassukaariyaya ayalude makalude attu poya kunjikkai ente dehathaanu vannu veenathu. Aaa kaiviralukal appozhum chalikunundaayirunu. Entho thirayunna pole. Enthu nedi. Ethu lakshyathil ethi… ' In the first few days of Summer in Bethlehem, viewers were in for a huge surprise as they found the actor portraying the character whom Aami(Manju Warrier) loved and for whom she was willing to give away her life was none other than Mohanlal. It might not be the best ever guest appearance in Malayalam. But it is tough to find ones that created a bigger impact with such a limited screen time. With only eight and a half minutes on screen, Mohanlal's Niranjan almost threatened to walk away with the entire movie. The only reason that he did not do that was Suresh Gopi, Jayaram, Vidyasagar and especially Manju Warrier all put their best feet forward perhaps knowing that there is this actor who appears at the end.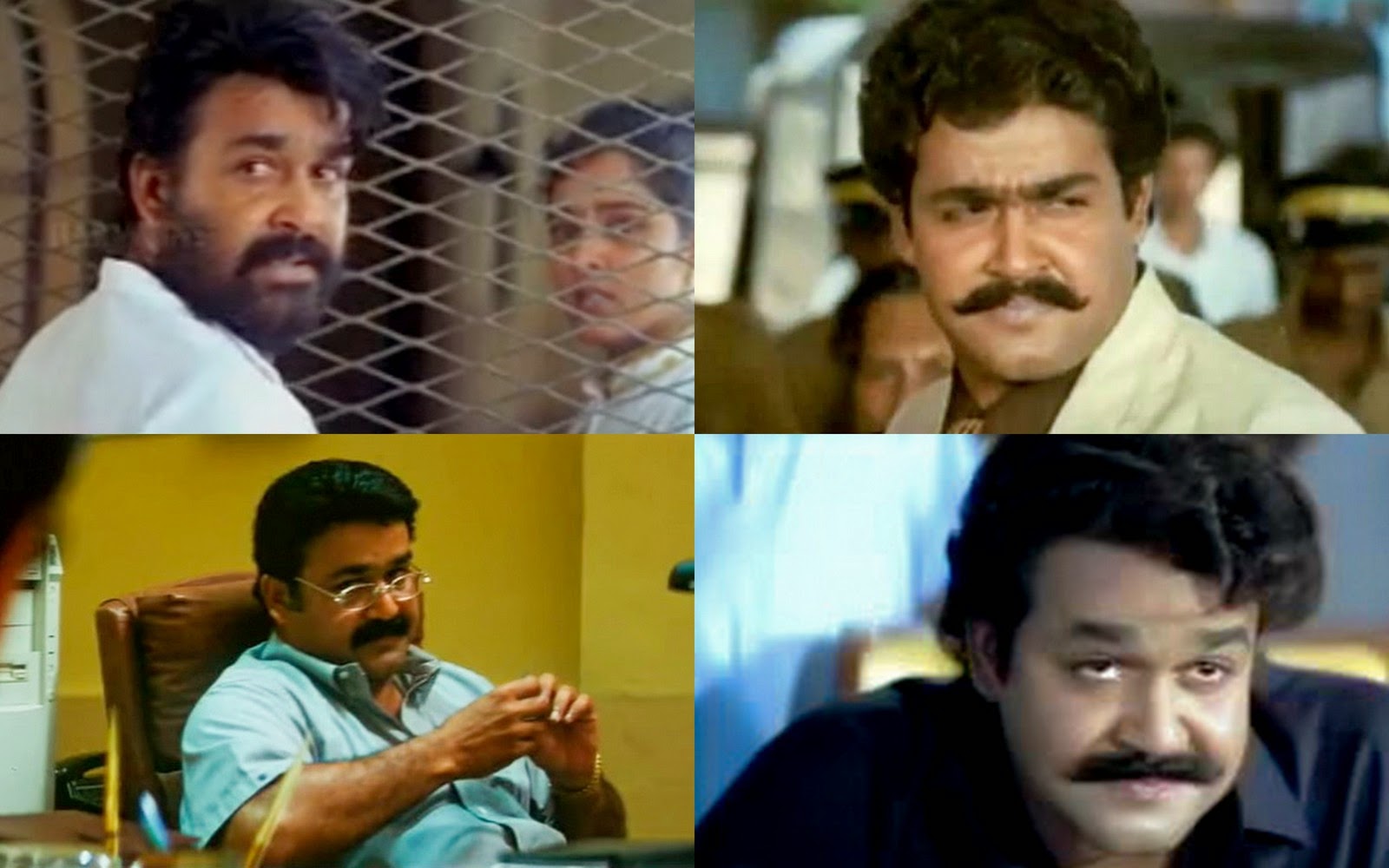 14. RAJAVINTE MAKAN – Vincent Gomas's Visit to Nancy's House and the iconic 'My number is 2255'  
Mohanlal was just 26 when he did Rajavinte Makan. But he displayed a stunning maturity when he became every bit of the underworld don 'Vincent Gomas'. His voice modulation ,body language and gestures all were strikingly different from the other movies that he did around the same time. My favorite scene from the movie is where Vincent Gomas visits Nancy's house for the first time, tells the iconic 'My number is 2255' and writes it down on a calendar. A one-liner that went on to become immensely popular than perhaps its makers even dreamt of, also marked the arrival of Mohanlal – "The Superstar".
13. DEVASURAM -When Neelakandan makes Bhanumathi dance in his house 
We love his characters in numerous movies – that's not news. But Mohanlal could also be equally venomous on-screen and could make us despise him too. Though he has done many negative characters in early part of his career, the one which still gives me chills is his devilish portrayal of Mangalassery Neelakandan in the first half of Devasuram. In the scene where he made Bhanumathi(Revathi) dance in front of him and his friends and said  'Vayya ennu nee parayilla .. paranjaal nritham matramaavilla njan ninne kondu cheyyikkukka', he did break stereotypes considering that it was a time he had immense fan following among the ladies and families.
12. TWENTY20 Interval Sequence 
There are scenes that give you goosebumps the first time because they caught you completely unaware .Then there are scenes which continue to give you goosebumps just about every time. Twenty 20's interval sequence where Mohanlal transforms from the meek Devan to the mighty Deva Raja Prathapa Varma belongs to this second category. Mohanlal was introduced late into the movie and remained subdued in the shadow of Mammootty. Things changed big time few minutes away from the interval when Mohanlal came out of the court barefoot. Four guys arrive at the scene and one of them lays him down sandals .When Mohanlal wears it in slow motion, the background score changes. Another guy hands him an expensive watch and he rolls up his sleeves .Wait, it still doesn't end there. As he walks now with his men behind , he folds his mundu in his trademark style and I remember how the entire theater went frenzy !
11 &  10 – SANMANASSULLAVARKU SAMADHANAM ( "Nee ithrayum bayankaranaaya vivaram njan arinjilla" ) and KILUKKAM ("Vattanalle")…The one-liners that stole the thunder from the co-actors 
It's a gift to allow your co-actor to shine in the screen for a good amount of time, then just come at the end and win equal applause with just a single line or a word. I cannot help but club these scenes of Kilukkam and Sanmanasullavarku samadhanam because they are so much similar. In former, Nadini (Revathi) had given a very detailed and hilarious account of what she had in the hotel . In the latter, Rajendran(Sreenivasan) had boasted in length about his daring stories as police officer. But at the end of it , Mohanlal just takes over, tells his one-liner with an innocent tone ensuring the accolades have to be shared.

9. CHITHRAM- 'Enne Kollathirikkan Pattumo' 
Mohanlal's 'Vishnu' started as an untrustworthy outsider in Chithram. Like Kalyani and her uncle, we also did not know who or what he was . But as the movie moved on, he made us laugh whenever he played pranks on Kalyani. We enjoyed his dance ,songs and trademark drunk acts. We were also surprised when he made attempts to hide the truth from Kalyani's dad. At the end when he goes in front of Soman and asks him- 'Jeevikkan ippol oru moham thonnunnu… athu kondu chodikkuva .. enne kollaathirikkan pattumo ',our hearts went out to him .Because Mohanlal's performance meant that Vishnu not only won over Kalyani and her family but he stole the hearts of our cinegoers. The result – the movie ran 400+ days in theaters.

8. T.P.BALAGOPALAN M.A – When Balagoplan sends off his sister after her marriage. 
'Mohanlal -Sreenivasan -Sathyan Anthikad '- The combo that has given us so many classics started their journey with this movie.  In a beautifully acted scene, Mohanlal calls his sister to his room after her marriage and tells her – 'Ninte kalyanam inganeyonnumalla njan nadathaan vicharichirunnathu' . He then hands her over a 50 rupee note to buy any small items on her own. 6 years since his debut, it was time that we saw a different side of Mohanlal and also the beginning of a subtle and much more realistic method of acting seldom seen in Malayalam before. Mohanlal won a well deserved state award for T.P. Balagopalan M.A , his first one, at the age of 26. He also held the record for the youngest actor to do so for 20 years.
7. NADODIKKATTU – When Dasan returns to Radha's house asking for more items
Nadodikkattu is 158 minutes of non-stop fun and personally my favorite comedy in Malayalam. It had such popular one-liners like 'Dasa etha ee alavalathi' , 'angane pavanazhi shavamaayi' ,'entha dasa namuku ee budhi thonnathirunne' . It had even this one great comedy scene without major lines too. Daasan doesn't have a job and is in poverty. But he is too proud to ask anything directly from his neighbors. This leads to a terrific scene when he makes lame excuses and keeps visiting Radha's (Shobhana) house asking for more items. Mohanlal is at his hilarious best when he tries to hide his uneasiness and embarrassment in front of Meena and Shobhana through a simple awkward smile !
6. NAMUKKU PARKKAN MUNTHIRI THOPPUKAL – The Proposal Scene 
'Solomonte song of songsil parayunna pole namukku gramangalil chennu rapaarkam , athikalathu munthirithoppukalil poyi munthirivalli thalirthu poovidukayum mathalanarakam pookukkayum cheytho ennu nokkaam…' Solomon tells Sofia this and asks her to go and check Bible for the rest of the lines. A proposal scene in Malayalam Cinema has never been so beautiful before or after .It had Padmarajan's expertise that added a poetic touch to his scenes, his perfect choice of the beautiful locations in Mysore and Johnson's heavenly background score. Above all, it had Mohanlal who had the gift to look so original when he romances on-screen
5. PATTANAPRAVESHAM – The Restaurant Scene 
If Malayalam ever had its version of Pushpaka Vimana (Kamal Haasan's famous silent film) , Mohanlal would have pulled it off . The two and half minute restaurant sequence in Pattanapravesham where Daasan tries to pull blood from his suspect is the proof for that. The startled face as Balakrishnan orders 20 chappathis and 4 chilly chicken. The fear and anxiety as he pulls his chair close to his suspect. The cunning look as he rolls his eyes around while fitting the syringe. The delight when he thinks he had injected the syringe and pulled the blood. Finally the shock to find no blood in syringe – all expressions flash in Mohanlal's face within the gap of just seconds. To add to all that ,the outright hilarious tone in which he says only dialogue in this scene –'Yes Omelette yes' – I never get tired of watching this scene !
4. KIREEDAM Climax
Mohanlal 's performance as Sethumadhavan is an instance as perfect as you could ever see an actor infuse life into the character he portrays .The scenes where he leave his houses telling his mother that he is losing the grip on his life, where he hits Jose's goon and screams he want to live and the entire terrific climax are testimonials to the level of commitment and dedication with which the actor approaches his roles. If the manner in which he just chews while waving the knife at police is an example of the minute details he brings on-screen to improvise upon and make the character look so real, his final loud cry out to the sky is a movie frame that's engraved in our minds forever !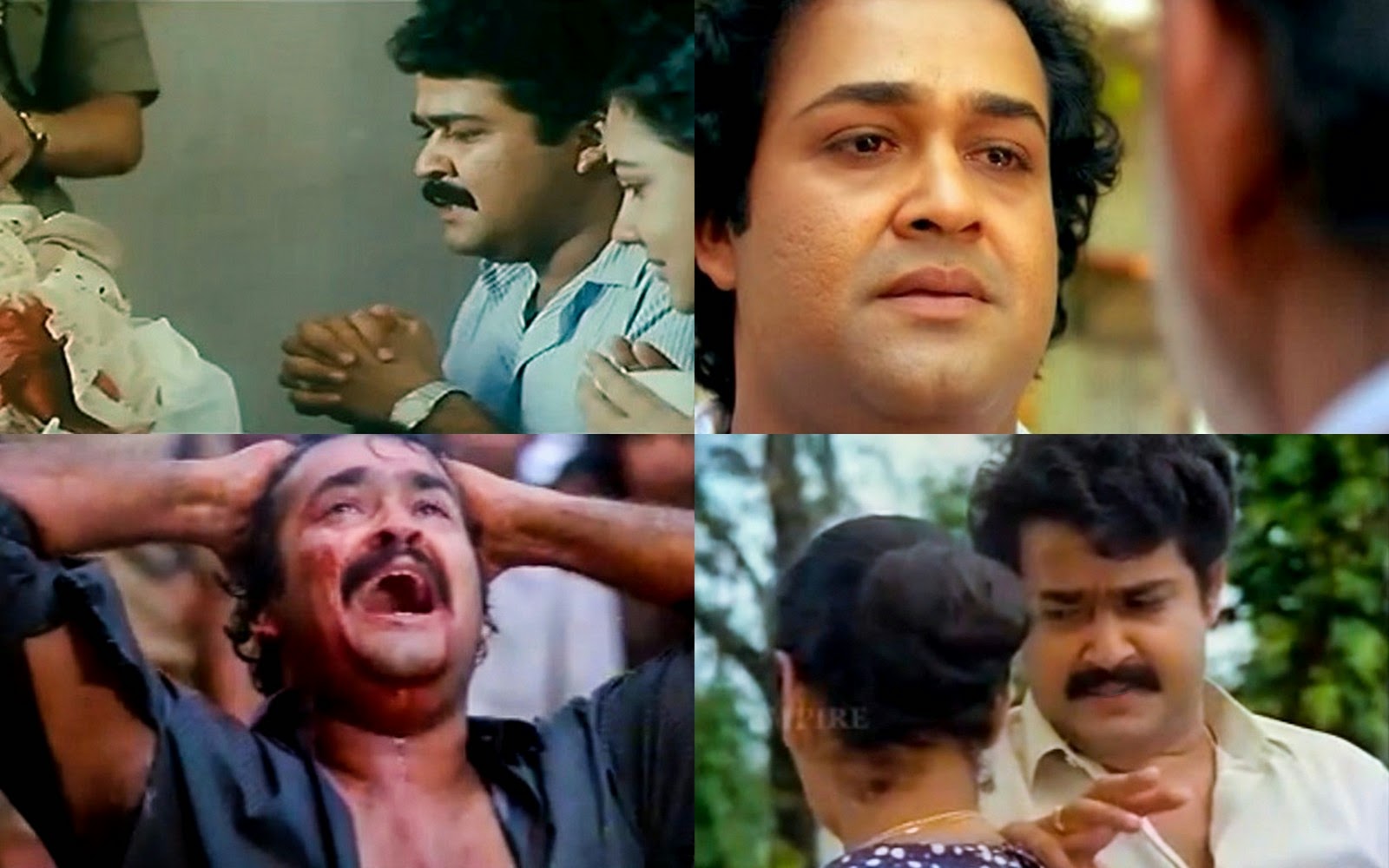 3. DASHARATHAM Climax 
Tamil star Surya once told in a talk show that during his early days as an actor, his biggest challenge was not knowing how to use his hands in each scenes – when to let them free and when to put them in pockets. That's when he watched closely how Mohanlal acted in his movies and found that Mohanlal's hands, arms and his entire body flow like music. He then added –'Mohanlal sir's fingers and even finger nails can act'. In Dasharatham's climax as Mohanlal rests his hand on Sukumari's shoulder and tells her -'Annie mone snehikunna pole Maggieku enne snehikaamo' ,watch his fingers and maybe Surya is right.
2. IRUVAR – When Anandan meets the director after his first movie is shelved 
A lot of top directors in Malayalam believe that it was Mani Ratnam who extracted the best performance ever by Mohanlal in his first Tamil movie. Its amazing how the same man who played the egotistical unabashed landlord in Devasuram could also be molded to the unassuming modest Anandan in Iruvar. In a terrific scene, Anandan confronts the director after his first movie is shelved and tries his best to convince him to resume the movie. When the latter responds it is not possible, Anandan is heartbroken. Yet amidst the grief, he bids goodbye to the director and tells him he would never forget him in his life. There is no overburst . Yet Mohanlal's eyes speak volumes about his pain.
1. BHARATHAM – The Police Station Scene 
Gopinathan has a heavy heart as he is waiting in the police station to identify the photos and clothes of the dead person. Harikumar(Murali) asks him to keep calm even if the news is bad . When the belongings are brought in front of him ,he recognizes that its his brother who is dead. He brings it close to his face slowly and cries silently. No words are spoken by the character in those two and half minutes. No sound is let out when he cries. Yet what transpires in front of you pierces deep through your heart. And that ladies and gentleman is my most favorite acting moment by Mohanlal ever! Having turned down his work in Kireedom 2 years earlier, the National jury couldn't shut their eyes once again. Mohanlal's performance in the movie and especially the above scene was rewarded with a National award. The citation read – "For his range as an actor as well as the restraint he applied in the portrayal of the much misunderstood musician"
P.S – "Where are the moments from movies like Sadayam, Vanaprastham , Thanmatra, Sphadikam etc". – This might be the thought that cross your minds as you have reached here. But for an actor who is an expert in almost all areas like action , comedy, romance, histrionics, it is a near to impossible task to include all his fine acting moments in one article. Hence I had to stick with only my most favorite ones.

Also Read – Mammootty and the art of bringing the audience to Tears
Follow me on Twitter:
Follow @fahir_me