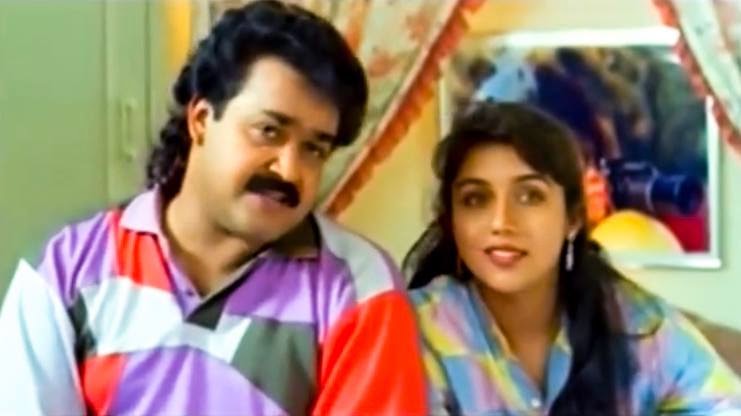 'Njan Narendran.. Oru Architect..Naadu Pattambi.. Ee building njan design cheythathaanu..Ithu vare njan cheythathil vechu ettavum uyaram koodiyathu..Ippol ithilum ethrayo uyarathil njan oru swapnam design cheyyukayaanu..Athu Nanda enna thanne base cheythaanu'

It often happens that a character's sudden demise or departure in a movie brings a big void or a sudden shock that you could never recover from it or enjoy the movie the same way thereafter. An instance that comes easily to mind in this category is Mayamayooram. Narendran was charming, lively ,romantic and had several tricks up his sleeve. After Narendran leaves the scene in the first half ,the movie was never the same. The fact that the same actor played his twin brother in the second half did not help shows how big an influence Narendran created in the first half
Before Ranjith turned to writing the larger than life and feudal lord stories , he had given us many light hearted stories in the late 80s and early 90s .Narendran remains one of his most masterful creations ever. Mohanlal as Narendran was at his flamboyant and hilarious best right from the introduction scene when he gets in the same taxi as Revathi's .His disguise act as 'the Pattambikkaran who is in search for a job' and his lines in Trichur accent are an absolute riot. Then followed a series of pranks that he played on Revathi which we could not help but enjoy thoroughly. Finally when his true identity is revealed and Revathi comes in and slaps him in front of a huge crowd, watch out for how Mohanlal still takes it calmly despite an embarassing smile.
Next when he placed a kiss on Revathi in a hotel, held her hands, took her out from there to the top of one of his buildings and proposed to her there (Thanks to Johnson Master for his beautiful background score in that scene !) , you saw the actor who is as expert in romance as he is in any other genre. You had a smile throughout until a couple of scenes later when Narendran accidentally fells down from the building when he tries to hold a letter back from Revathi.
There you got one of the most shocking twists ever in Malayalam Cinema. The movie took a sudden melodramatic turn from that point and the second half dragged a lot as the movie's characters like the audience too could not recover from the loss of Narendran. It finally reflected in the box-office numbers too.
For Sibi Malayil ,Mayamayooram comes right behind Devadoothan among the movies that are close to his heart but has still given him more pain because of their box-office results. I still love to revisit Mayamayooram but more often like most others, I usually don't continue with the movie once Narendran departs from the screen