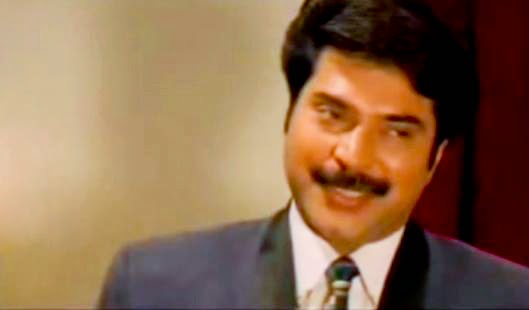 'Thanikennodu veruppaanennu ariyaam..Pettennu athu marillennum ariyaam..Veruthu veruthu veruppinte avasaanam ennenkilum thaan enne snehichu pokum… athu urappaanu..'
Romance is not one genre you usually associate with Mammootty. For someone who arrived in Cinema late, from his early days he has allowed his younger co-actors to take care of romance in his movies. But that did not mean he would not excel in this genre given the right chances. Both Kandu Kondain Kandu Kondain and Azhakiya Ravanan stay at the top of such occasions.
Shankar Das was a rich businessman who returned to his native after many years and tried to fulfill his secret wishes while hiding his identity.  In a character tailor-made for him , the egoistic and arrogant nature of his character paved way for lot of laughs in the initial portions of the movie. In the scenes where he calls himself  'Vedanikunna kodeeshwaran' or where he forces the music director to use his tune in the movie he produces, the actor was at such fine ease in comedy like you had seldom seen him before. There was a delicacy with which he handled the movie's final moments . The manner in which he delivered the romantic lines finally won his childhood friend's heart and even ours.
Azhakiya Ravanan was a box-office failure. Yes you read it right. Expectation were huge when Mammootty-Kamal-Sreenivasan team re-united after the blockbuster Mazhayethum Munpe in 1996 but ended up only receiving dismal response. Azhakiya Ravanan belonged to that category of movies which audience deserted at cinema halls during their release but visit a lot often on small screen in following years.
The movie had great comedy .The 'Chirakondinja kinaavukal' narration and 'Thonakkal Panchayathile ari' scenes are still further proofs of Sreenivasan , the genius writer's ability to create humorous situations that never pale with time. Vidyasagar and Dasettan gave us the evergreen 'Vennila Chandanakinnam' and the background score was brilliant. It had an interesting premise and above all a very apt title.
With so many things working in its favour, what caused Azhakiya Ravanan to fail ? Is it that the audience back then could not connect with the arrogant attitude of the protagonist who thought he could buy everything with money? Is it that they could not digest the fact that he left it too late to reveal his identity to his lover? When we look back today, we are glad that Sreenivasan created Shankar Das as such because all these traits and actions are what made him more human and distinct from other normal heroes.
As for Mammootty, Shankar Das will always be one of his most special characters because he stepped into two areas- 'Comedy' and 'Romance' which he was less known for then and came out in flying colors. In a recent interview to a magazine , Mammootty was asked which movie's failure has hurt him most. In a 35+ year career that has seen many failures along with successes , he only mentioned one name – Azhakiya Ravanan . Which just shows how close both the movie and the character 'Shankar Das' are to him.