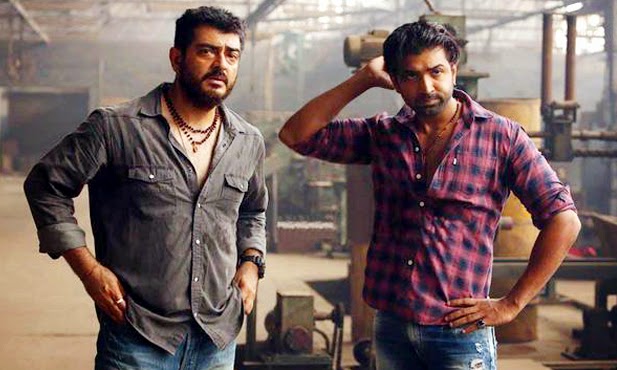 "In few seconds I would have been responsible for another death. For a change, I thought I would be responsible for a life" says the hero in Yennai Arindhaal as he first meets the heroine proving Gautham Menon still has new tricks up his sleeve when it comes to portraying romance ."98% of the policemen never takes the gun out of the holster or fires a bullet. I belong to the rest 2%" tells us the hero in another thrilling sequence before he starts a shootout on a gang of bad men that re-iterates director's expertise in the cop genre as well.
After a couple of duds, Gautham Menon returns in style to his strengths to complete his cop trilogy after Kakka Kakka and Vettaiyaadu Vilaiyaadu- easily two of Tamil Cinema's finest ever in the cop genre.
Yennai Arindhaal does not really have a fresh screenplay or story. It does resemble Gautham Menon's previous two cop movies at several places.(Though I do believe it is deliberate move from director – I would be coming back to that later). The movie is nearly 3 year long and until the riveting last one hour , the movie does lag at many places. But it is to Gautham Menon's credit that he fills in with some nice moments and lines like the ones I mentioned above which keeps us interested throughout.
There is something about Gautham Menon's heroes that their style of always narrating in the background never bores you. You have heard his trademark dialogue – ' Avane njan muthal muthalaa pathathu' many times including here since his Minnale days and yet it only brings a smile on your face once again.
Ajith is fabulous as movie's protagonist – Sathyadev IPS and the fact that an actor and director who has so extremely different styles unite for the first time itself brings in a novelty. There are many scenes that benefit from the huge aura that comes with Ajith – the superstar's magnetic screen presence and there are many other scenes where the star goes back to the fine actor in him after a long time.Arun Vijay is a revelation. The last 30 -45 minutes of the movie is racy and thrilling and lot of it has to do with Arun Vijay who matches upto Ajith and even overpowers him several times.
In a stunning phone conversation sequence which splits the screen between two actors, that you might fix your eyes more at Arun shows how good he is. Hopefully this should bring an end to the struggle he has had for last 20 years and give him a huge break.Out of the two leading ladies, Trisha leaves a deeper impression. Dan Macarthur's slick visuals are such a huge asset to the movie that it even makes some of the other recent Tamil movies look outdated.Harris Jayaraj's music is not consistently great but it has a couple of very good songs and a pretty stylish background tune that he uses at the right places in the movie adding a lot to the impact created.
Sathyadev often says in the movie- 'There is a thin line that separates a good man and a bad man'. If you apply the same theory to the movie ,Yennai Arindhaal luckily has just the right amount of ingredients that let it fall on the side of that thin line which makes it "GOOD". There is one more reason I believe it is a fitting ending to a great cop trilogy and that's the continuity Gautham Menon has been able to cleverly induce as far as the stories of the heroes in his cop trilogy are concerned.
 **** Spolier Alert*** – Do read ahead after you have watched Yennai Arindhaal
The heroine who is a single mother , a daughter from her previous marriage, dialogues like ' Ungal koode njan en vaazhkaye vazhanam ,unke koode naan irikkanam' and many other scenes looks like a straight lift from Gautham Menon's previous cop movies Kakka Kakka and Vettaiyadu Vilaiyaadu  .But before we complain on the similarities , did anyone notice that Gautham Menon could have deliberately left the similarities to maintain the continuity
In Kakka Kakka, Surya and Jyothika falls in love and marries … Jyothika finally dies at the end..
In Vettaiyaadu Vilaiyaadu's flashback ,its shown Kamal Haasan 's wife is dead ( exactly like where Kakka Kakka ended) .Then he is about to marry a single mother(Jyothika) and arrives the marriage with Jyothika's daughter while the end credit rolls….
In Yennai Arindhaal's flashback, Ajith is about to marry Trisha and was planning to arrive at the day of marriage with Trisha's daughter (again where Vettaiyaadu Vilayaadu ended) but then Trisha dies and finally Ajith adopts and takes care of the girl like his own daughter…
So on a bigger note , there are great chances that Gautham Menon was always narrating the story of a single police officer in just three different episodes!