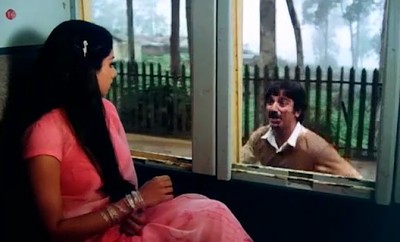 Sridevi had the author backed role in Moondram Pirai where she was expected to reap the maximum benefits and win the major awards. She played a girl who loses her memory and intelligence after an accident and hence had a greater room to display histrionics. She did a fantastic job too. Kamal Haasan gladly played the second fiddle and remained subdued and restrained for most part of the movie. All until that brilliant climax.
The amazingly gifted actor gets a limited window of opportunity there ,turns the tables, takes you by surprise and unleashes a powerful performance. When the top awards were announced in 1982 , Sridevi had to be content only with the state award. Kamal Haasan walked away with both the National and state awards. After the National awards, a leading Tamil magazine even published a cartoon that said Sridevi might not even want to act with Kamal again !
Moondram Pirai told the story of how Bhagyalakshmi(Sridevi) ,childlike amnesiac, ends up far from her parents with a school teacher, Srinivas(Kamal Haasan). For a movie released 30+ years ago, Moondram Pirai does have its shortcomings when you watch it today but it's the lead actor's performances, the heartfelt story and the fact that scenes in many other movies in later years had shades from it that earns the movie the classic status. The movie had some memorable scenes like the one where Kamal Haasan asks Sridevi about her age, parents and home in the brothel where he first meets her and the one where he confronts and fights the woodcutter who tried to rape Sridevi . But nothing matches the closing 10 minutes which is when the movie scales whole new heights.

Balu Mahendra also directed another poignant movie in Malayalam – Yathra where Mammooty's character had to go through years of torment and pain but there was at least a very slight relief when he finally reconciles with Sobhana at the end. In Moondram Pirai, the director offers you no respite. When Bhagyalakshmi regains her memory and gets ready to travel back with her parents in the train,  Srinivas tries everything he could do to make her understand who he is , after he has protected her, took care of her for serveral months and even fell in love.
When he fails miserably and watches her move away in distance, you cannot finish the movie without a lump in your throat. Aided enormously by Ilaiyaraja's evergreen song – 'Kanne Kalaimaane' which is soulfully rendered by our Dasettan and Kamal Haasan's epic performance, it is an ending that continues to haunt you for long. 

It is surprising when few people consider Kamal Haasan's acting sometimes as overboard. His performance in Moondram Pirai is a very fine example of both restrained and expressive acting, as and when, it demands. In the last scene, he runs a long distance, fells in mud , reaches near Sridevi's train cabinet , starts monkey act that he done before to make her understand who he is , hits a lamppost and then after the train leaves, he just lies down there being completely drained out.
All throughout that climax Kamal Haasan sustains the same epitome of acting. Only once I have seen a performance that surpasses this in Tamil. It is again Kamal Haasan's only Velu Naicker in Nayagan.
Follow me on Twitter:
Follow @fahir_me