'Namuku gramangalil chennu rapaarkam , athikalathu munthirithoppukalil poyi munthirivalli thalirthu poovidukayum mathalanarakam pookukkayum cheytho ennu nokkaam…' Solomon (Mohanlal) tells Sofia (Shari) this and asks her to check Bible for the rest of the lines. A proposal in Malayalam cinema has never been so beautiful before or after. Padmarajan's 1986 movie – 'Namukku Parkkan Munthiri Thoppukal' released with the tagline -'Munthiripazhathinte madhuryavum munthirivalliyude lalithyavumaayi' -a line that was absolutely befitting for the movie.
Very few movies had been as simple, sweet and breezy as Namuku Parkkan and still been able to find a place in the all time classics. Based on the novel – 'Nammukku Graamangalil Chennu Raappaarkkaam' by KK Sudhakaran, the movie told the story of Solomon who fell in love with his neighbor but faced a big hurdle in the form of her step father. Namukku Parkkan did not have too many characters and only switched between a couple of sets. But still Padmarajan ,the genius he was, who had mastered romance just like any other genre, took us through such a delectable cinematic experience. 
Everything about this movie had a certain beauty attached to it. Padmarajan's choice of location in the beautiful suburbs and vineyards of Mysore added to the richness of the movie. Let's take even the white fence between the houses of Solomon and Sofia. Imagine something else in that place and the movie might not have been the same. When Solomon first sees Sofia through his window, when he takes his jeep in reverse while sharing a glance with Sofia, when he proposes  – the white fence almost plays a character in this movie like the rain does in Thoovanathumbikal.
(Also Read: Mohanlal in Drishyam – A masterclass in subtle acting)
There is great warmth in how Padmarajan handles a lot of the scenes. The one where Solomon's mother(Kaviyoor Ponnamma) asks Solomon to promise his dad in the graveyard and he tells the secret to the grave is cute. So are the scenes where Solomon and Sofia speak through signs and gestures each time on either side of the fence. One where Sofia tells Solomon that she always dream of both of them going away in lorry is beautiful too. Finally there is the awesome climax. Normally one would have anticipated a tragic ending where Solomon reacts too strongly and takes revenge on Paul Pailokkaran after Sofia gets raped by the latter. But Namukku Parkkan amuses us with its delightful ending. 

'Randamathe horn kelkumbo irangi varaam enu paranjittu ?' – asks Solomon. 'Njan Karuthi'– replies Sofia. Solomon smiles and walks with her to the lorry. He gets inside ,opens up his arms and lifts her up as the beautiful theme music by Johnson Master sprouts in the background. On the other side of the fence, Antony(Vineeth) , who had a worried face until now would now start to smile just to sum up the reaction of us viewers. Solomon's mother would also join and her reaction confirmed they would have her blessings too. Padmarajan and his magic turned around things like only he can

Among all the wonderful things he did in a single year 1986, Mohanlal also looked so natural when he romanced on-screen in Namukku Parkkan. But an actor who made an equal or even bigger impact was Thilakan as Paul Pailokkaran ,Sofia's heartless step father. Thilakan could make us despise Pailokkaran as much as we love his characters in other movies .That just reiterates the amazing gift possessed by the legendary actor whom we miss further more as we watch performances from his past movies. Shari was perfectly cast and the actress won the state award for the best actress that year. 

Finally you cannot look back at Namukku Parkkan Munthiri Thoppukal without treasuring the enticing background music by Johnson master and the rich visuals provided by cinematographer Venu. Both of their works have a magic that makes sure the movie doesn't look 30 years old ,which it is actually ! Venu won a well deserved National award for his work. As for Johnson Master, I think this is the best among all the wonderful tunes he had created.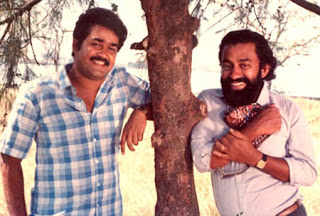 "Not a single day passes where I don't remember about Pappettan" – is what Mohanlal said once when asked about the filmmaker. Such was the great camaraderie shared by the two greats which was apparent in how Padmarajan was able to extract always the best from Mohanlal and how classy the movies they worked together always turned out. Mohanlal has essayed so many great romantic characters in his career but the ones that rank a lot higher are from Padmarajan movies – Namukku Parkkan's Solomon and Thoovanathumbikal's Jayakrishnan.
These two classics ,still after many years, continue to be discussed ,talked about and feature among a lot of our favorite movies ever.  If I have to pick one among the two , I would go with Namuku Parkkan Munthiri Thoppukal for its sheer simplicity. It is the sweetest Malayalam movie ever made. Watching this movie is like striding across a gentle breeze.

Also Read : Those Magical Mohanlal Moments
Follow me on Twitter:
Follow @fahir_me