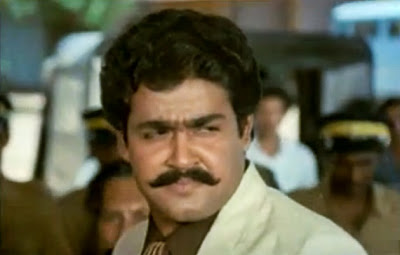 'My phone number is 2255' says Vincent Gomas and writes the number on the calendar in Ambika's house. A one-liner that went on to become such immensely popular than perhaps its makers even dreamt of, also marked the rise of Mohanlal, the Superstar. From the villain in his debut movie , 'Manjil Virinja Pookkal' to the common man in 'T.P Balagopalan M.A', Mohanlal had already essayed a variety of roles in such a short span.
In 1986's Rajavinte Makan, at the age of 26,when he proved that he could also  pull off an underworld don with such maturity and elan and when he carried an action thriller to huge success on his entire shoulders , it was more than enough for the media and the audience to announce the arrival of our next Superstar.
Rajavinte Makan told the story of the gangster,Vincent Gomas and his fued with the home minister, Krishnadas (Ratheesh). The movie had a racy script penned by Dennis Joseph who was also instrumental in getting Mammootty too the superstar status in the very next year in New Delhi. The theme music by S.P Venkatesh was a pure treat and adds to the style and impact of many well executed scenes in the movie.
Thampi Kannanthanam's direction was sleek and resulted in creating a action thriller that was fresh and different from what we had seen prior to 1986. Ratheesh, Ambika and Suresh Gopi had important roles in the movies to which they provided complete justice but ultimately Rajavinte Makan was Mohanlal's show. 

From an extremely slick introduction scene where he just stares at the photographer and makes him destroy the film to his first confrontation with Ratheesh at the party office to his visit at Ambika's house to the memorable scene where he opens up to Ambika on his past, Mohanlal is at the heart of all the finest moments in the movie and is at his stylish best throughout. It's just amazing , even at such a young age, how  maturely he gets into the character of the underworld don and how he brings in a body language , mannerisms and a voice modulation that are entirely different from the middle-class man characters he portrays in other movies. 

Just like 'Vadakkan Veeragadha' is for Mammootty and 'Commissioner' is for Suresh Gopi ,Rajavinte Makan is a significant movie in Mohanlal's career when it comes to his most popular dialogues ever. If Malayalam movies had a system similar to American Film Institute for the most famous movie quotes ever, Rajavinte Makan's 'Orikkal Rajumon ennodu chodichu uncle inte father araanennu' , 'Manassil kuttabodham thonni thudangiyal cheyyunathellam yanthrikamakum' and the iconic 'My phone number is 2255' might easily get to the top 10-15. These are also the lines which were used by mimicry artists regulary for several years when they appear to imitate Mohanlal.

I saw recently few posts and articles where Fahad and Indrajith after Amen were compared to Mohanlal from the 1980's and 1990's when he did roles with no starry airs.Fahad and Indrajith are talented actors among the younger crop but I feel its still far-fetched to weigh them against Mohanlal. Though at one end Mohanlal used to portray simpleton 'The guy next door' characters , at the other end he also utlized his superstar image to the hilt with larger than life characters and  playing to the gallery in action movies like Rajavinte Makan, Irupatham Nootandu, Abhimanyu, Naaduvazhikal etc.
Its a known fact that leading actors across the country envy Mohanlal's glorious career where he has donned such wide variety of roles, but they might particulary look at the year -1986 and tell 'WOW'. In 1986, Mohanlal won his first state award in 'T.P Balagopalan M.A' ( record for the youngest actor back then) , gained the superstar status in 'Rajavinte Makan', played one of his most memorable romantic character in Padmarajan's 'Namuku Parkaan Munthirithoppukal', did lead roles in comedies like 'Sanmanassullavarku Samadhanam' , tragedies like 'Thalavattam' and thrillers like 'Kariyila Kattu Pole'.
We do get to see the glimpses of the genius once in a while in recent years like 'Pranayam' and 'Thanmatra' but it remains that our makers and writers today haven't been able to tap the great actor's potential to the maximum like it happened in the first half of his career.