Malayalam Cinema had a great 2016. It saw the rise of some young talented film makers, record breaking blockbusters, impressive scripts and memorable performances. Here is a look at 12 things that perhaps struck us most as the year ends (P.S – they are in no specific order)
Oppam's thrilling interval block – Mohanlal takes few steps back as he realizes Nedumudi Venu's killer is in the same hall. Samuthirakani walks away and turns to look at him as young composer Ron Ethan Yohaan puts on a rollicking background score. Priyadarshan proved he still has it in him and an interval block hasn't been this memorable in a long time.
Maheshinte Prathikaram's "8 inte oru lunar" – When Fahad Faazil says this in the climax, he had a smile. So did the shopkeeper and also the viewers. We perhaps did not root for any other hero more this year than we wanted Mahesh to start wearing that slipper. This is what a wonderful screenplay and a heartfelt performance from a leading actor could do to you.
Pulimurugan's action – Pulimurugan was not flawless but it had some breathtaking stunt and chase scenes especially in its last 20 minutes. Peter Hein and Vyshakh took action in Malayalam to its next level as Mohanlal joined the fun with an energy that was surprising from a 56-year old hero.Viewers welcomed a complete action thriller in Malayalam after a long time taking it into heights no one expected.

Guppy's closing shot – The entire last 20 minutes of Guppy was awesome but the closing shot stood out. As Tovino was riding the bike through the Himalayas, you were curious what happened to master Chetanlal's part in the story. Now director Johnpaul George cleverly tilts the camera as he shows you Chetanlal is sitting right behind Tovino. Add to that, Vishnu Vijay's beautiful music and Vinaayak Sasikumar's soulful lyrics, no other movie made you finish on such a high in 2016!

Action Hero Biju's new spin to Police tales – There were no lengthy fiery dialogues. There was no single murder case that would stretch for entire runtime. Action Hero Biju just narrated a series of small cases in a sub inspector's day to day work life. It was hilarious at times, looked realistic for most part and was refreshing. One sequence that involved Suraj Venjarammoodu was particularly memorable for the actor's terrific cameo.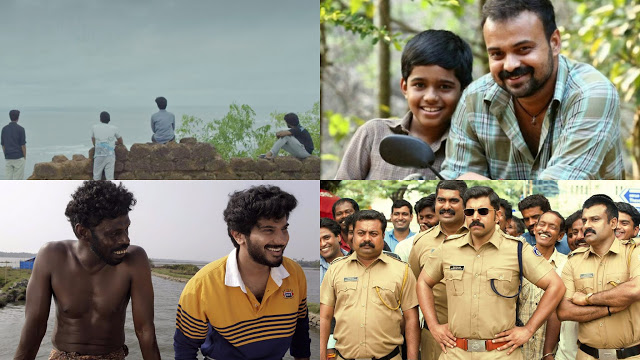 Kammattipadam's realistic take on friendship– Krishnan and Ganga were great friends but that did not mean Ganga would sacrifice and make way for Krishnan to marry Anitha. When Ganga tells Krishnan- "Nee avale marannekku", it was just one among the several scenes movie realistically depicted. Vinayakan did a terrific job as Ganga whereas Dulquer was not far behind.

Moments from Anandam that took us to our college days – Small fights, jokes, confiding in your close friends during your problems – Anandam did remind us of our college days. Particularly heartwarming was a scene where Kuppi breaks down in front of his friends saying he came to the tour only to have a good time with them .Next they proceed and pose for the "Dil Chahta Hai" click , an item that was in the bucket list of anyone who went on a college tour to Goa.
Kochavva Paulo Ayyappa Coelho's message that "every kid's dream is important" – In a scene, Kunchakko Boban asks Master Rudraksh why he has to cry over a simple matter of flying in a plane. The kid replies- "It is not a small matter. You don't know how important it is for me" and it instantly melted our hearts.
Rajisha Vijayan's debut in Anuraga Karikkin Vellam – Rajisha was so adorable as Eli that it even surprised us at times why Asif Ali would want to break up with her. Despite the presence of other seasoned actors, it was still this debutant who walked away with most laurels and movie's most hilarious moments.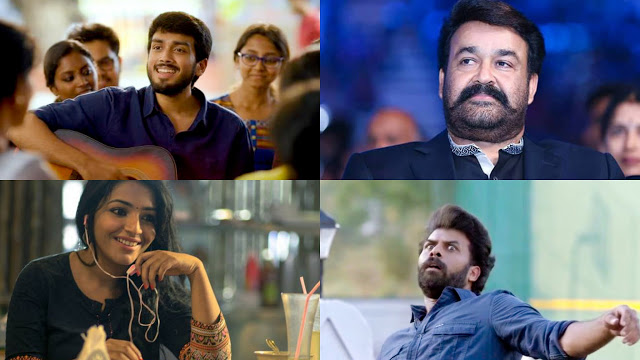 Poomaram song – The song of the year came from a movie that never released in 2016. Faisal Razi took a song that was popular in the campus of Maharajas college and gave it a new tune . Faizal then rendered it soulfully while Kalidas Jayaram gracefully translated it on screen. The song was an instant hit from the moment it arrived online.
Midhun Manuel Thomas and Nadirshah's knack for Comedy – In Annmariya Kalippilaanu when Sunny Wayne gets beaten by the teacher , Midhun puts the fox studios music. In Kattapanayile Rithwik Roshan, when Vishnu Unnikrishnan opens the question paper, Nadirshah puts the Pramadavanam song. Both scenes were predictable, yet these directors could make sure the viewers laugh out loud. They both seem to have a bright future in the comedy genre.
Mohanlal's golden run at boxoffice – Finally 2016 in Malayalam Cinema might be remembered most for the plethora of records that Mohanlal set in the boxoffice. It was when Oppam inching closer to Drishyam that Pulimurugan arrived and gave Malayalam Cinema its first 100 crore movie . As 2016 ends, Mohanlal tells us once again that this industry could aim for Boxoffice numbers that we haven't imagined before.