All Time Favorites – KAL HO NAA HO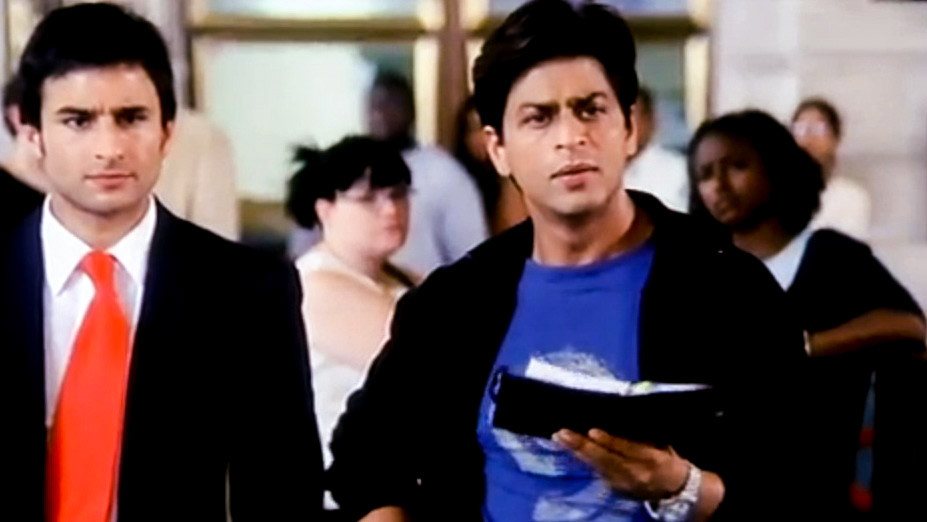 "Mein aankhe band karta hun to tumhe dekhta hun,
Aankhe kholta hun to tumhe dekhna chahta hun,
Tum paas nahi hoti to tumhe charo taraf mehsoos karta hun
Har pal har ghadi har waqt mere naina mere naina ko doondate hain…
..Tum meri ho, mein tumhe zindagi bhar pyar karunga
Marte dam tak pyar karunga aur uske baad bhi"
In a hugely memorable scene from Kal Ho Naa Ho, Aman looks at the blank pages of Rohit's diary and instead speaks out the above lines expressing his own feelings for Naina . His movies might be candyfloss and melodramatic for some,but when scenes like this one in Kal Ho Naa Ho strike a chord with millions of viewers and move their hearts ,its turns out to be something only Shahrukh Khan can pull off so convincingly and brilliantly. They don't call him 'The King of Romance' for no reason !
Kal Ho Naa Ho marked the third time association of Karan Johar with Shahrukh Khan. While Karan Johar took care of the story and screenplay department , Nikhil Advani made a terrific directorial debut finding a mid stream between Karan Johar's larger than life and Farhan Akthar's much more realistic schools of film-making. It is surprising though that he couldn't find the same success in any of his later movies. Saif Ali Khan's Rohit is as important a character in his career as Sameer in Dil Chahta Hai. While Aman came out as too perfect,Saif Ali Khan's Rohit was perhaps much more relatable.
Both Shahrukh Khan and Saif Ali Khan shared a brilliant chemistry , something which you don't see often between top actors in Hindi movies. While the two continue to make you laugh on Filmfare shows, it would have been a greater treat if they decide to team up again on-screen too. Preity Zinta don't disappoint you often and did a great job here as well.

A number of other scenes than the diary reading scene too leave a big mark like the interval sequence where its revealed that Aman is dying of a severe heart condition, later when Priety Zinta gets to know about Aman's condition and the climax scene in the hospital room. A main reason all these scenes stay with you is also because of the enticing instrumental music that plays in the background .
Kal Ho Naa Ho , I feel , is Shankar Ehsaan Loy team's best work ever. The songs are all equally beautiful and you never tire listening to them. Sonu Nigam's rendering of the title song is so soothing . Not a surprise to many, both Sonu Nigam and Shankar Ehsaan Loy won well deserved National awards.
Kal Ho Naa Ho is not without its shortcomings with a traingular tale that's been told umpteen times in the past.Yet the positives far outweigh negatives with some great music, excellent performances, sleek direction and above all  the magnetic presence and never failing charm of Shahrukh Khan. The 47-year old actor even today gives the younger crop of actors a run for their money when it comes to romance , a territory where he has enjoyed unparalleled success.
Even among the movies in the recent years, if you can ignore that Anushka couldn't identify her husband in disguise, Rab Ne Bana de Jodi worked well yet again because of Shahrukh. Jab Tak Hai Jaan had a weak story but still ended up watchable as Shahrukh delivered another flawless performance in a tailor made role. Only if the filmmakers can write him more mature characters, Shahrukh Khan has still a lot left in him to continue to amaze us.