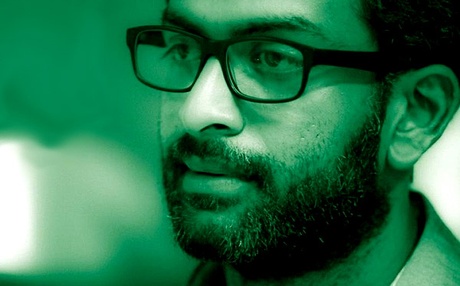 I still remember the day when I went to watch 'Classmates'. I had asked a friend about the movie and he said its an okay good movie.After watching the movie , I called him back – "You told this is just a good movie. This is one of the best I have seen in recent years.!!" Classmates was a terrific movie.. One of those rare movies in last 10 years which could find a place in the all time best classics of Malayalam Cinemas. So when Lal Jose teams up again with Prithviraj and when you had seen the song – "Januaryil" with a college background similar to Classmates, the expectations are high. So does 'Ayalum Njanum Thammil' meet the expectations – The good news is 'yes, it does'…
While Classmates was a movie that happened entirely in a college background , 'Ayalum Njanum Thammil 'takes a different route and deals with a fresh subject. You have seen a number of movie sequences at the hospital but rarely have a movie been told completely from a doctor's perspective. Ayalum Njanum Thammil tells the beautiful tale of various phases in the life of Ravi Tharakan (Prithviraj),how he transforms from carefree immature medical student to a devoted doctor with high moral values,how he steps out from the easy going college life to the hard life in the outside world and how he learns important lessons in life from his senior doctor(Prathap Pothen).

Ayalum Njanum Thammil opens with a striking sequence in the hospital where you see Dr. Tharakan in his mid-40's getting ready to perform a surgery of a child without the parent's consent because he feels that's the only chance for the child to survive. The movie then takes you through a number of flashback scenes where you learn more about Tharakan through his collegues ,friends and other important persons in his life. The first half has a number of good sequences like the ones where Prithviraj is asked to directly treat a patient on the first day of his rural practice and his intial face-off with Kalabhavan Mani.In the second half the scenes where Prithviraj refuses to treat Kalabhavan Mani's daughter and the one where Prathap Pothen saves him by testifying that he is innocent are two well written and brilliantly executed sequences.

Movie has a beautiful background score and  'Januaryil' and 'Thulli Manjinullil' are good songs. Jomon T. John's cinematography is excellent. This would be the second time this year ( first being Thattathin Maraythu) that Jomon's good work is helping a movie in a big way. Dialogues are awesome. Prathap Pothen gets some of the best one-liners like " As a doctor, its not the treatment or the medicines you prescribe that matters, its the decisions you make" and" in this profession , even a small mistake is a big crime". Bobby Sanjay deserves a big amount of the credit for a great original screenplay. On the downside the movie might not appeal to people who are looking for entertainment as the second half especially moves completely on a serious note.

Lal Jose is one director who has the ability to transform good scripts to still higher levels with his execution. I was a great fan of him during the period when he directed four exceptional movies in a row – Chanthupottu, Achanurangaathu Veedu , Classmates and Arabikatha- especially I really loved the way he handled many scenes in Arabikatha. Then he went on to direct some mediocre scripts .This year you saw him bouncing back with 'Diamond Necklace' and with 'Ayaalum Njanum Thammil' he shows us that he is back on the right track.

Now finally to the Protagonist – Prithviraj.( Also read Prithviraj – Why do they still hate him) Prithviraj does a fantastic job making the transition from a irresponsible junior doctor to a commited matured doctor perfectly believable. His body language and gestures all change amazingly well when he moves on from the young character to the middle aged guy. Watch out for the two sequences where he breaks down – one when he reaches the registrar office after Samvrutha left and the other one where he meets Kalabhavan Mani's daughter at the school – he is simply brilliant. Ravi Tharakan is perhaps the most well written character in Prithviraj's career and this should be definitely his best ever performance. Prathap Pothen is terrific as Prithviraj's senior doctor. Narein and the three leading ladies do their part well.

2012 has been generally a good year for Malayalam Cinema. Lal Jose and Prithviraj had been already part of two good projects – Diamond Necklace and Molly Aunty Rocks in 2012.Now they make sure that we have another valued addition to the list of some great movies released this year .Ayaalum Njanum Thammil is a rare combination of a fresh original story with a good message, superb performances and brilliant treatment. It is a must-watch !