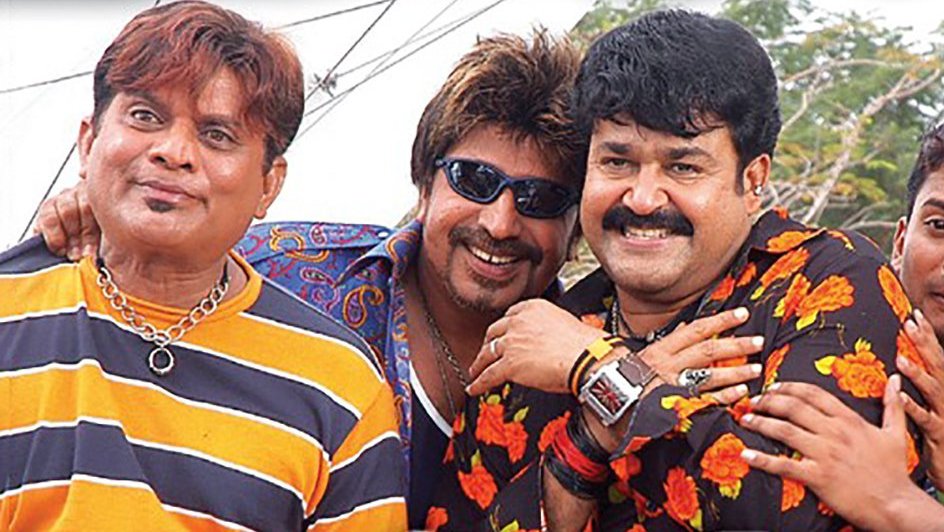 …. Just as Michael Ashan is scolding his son for spoiling his birthday and landing him on jail , one of Vasco's friends comes from behind and stutters ' Happy Birthday to you' !
…. Michael Ashan beats Vasco for cheating him ,causing his sister's wedding to call off and walks away with his daughters. At this moment you might expect a emotionally wrenching interval.But Vasco looks at the 'Bayapedenda Njan Koodeyundu' board on the door and smiles !
…. When his sisters tell Vasco its his dad's birthday, Vasco heaves a deep sigh .You think he might be missing his dad dearly but he adds that he misses the 1000 Rupees that his dad presents him on all his birthdays !
…. When Vasco and his friends are eagerly waiting for Padakkam Basheer , we felt that Basheer was about to come with a solution to win back Vasco's house. Its then Basheer arrives revealing the bottle and we realize that they were actually waiting for the liqour !
This is what I always loved about Chotta Mumbai – Just as you expect the movie to get into a serious tone, Anwar Rasheed surprised you with a line or a moment that made you laugh out loud. Few days back I happened to watch the movie again on TV and Chotta Mumbai never ceases to bring a smile in you. I remember when I watched the movie first in 2007 how I was slightly disappointed not to see a punch dialogue or a stylish confrontation between Mohanlal and Kalabhavan Mani. Its later that I realized if all movies followed the pattern of Narasimham or Aaram Thampuran , where is the fun !
For a change , Mohanlal was not a larger than life hero. He was not a self sacrificing son or brother . Neither was he a genius who knows about everything under the sun. He was just an ordinary man and he just had a blast portraying the same.  "Adikalakal Padichavanalla ,Veeranumalla…Kodumudikal Kadannavanalla, Kemanumalla" – His character stayed entirely true to these lines in the movie's song. I think this movie has Mohanlal's best work in comedy since perhaps 2000. It was also refreshing to see Siddique play a pure comedy role without the last minute twist where he usually turn the villain.
Anwar Rasheed's most popular movies are indeed Rajamanikyam and Usthad Hotel but I would give a lot of those credit to Mammootty and Anjali Menon. If there is one movie where I loved Anwar Rasheed's work the most as a director , its Chotta Mumbai.