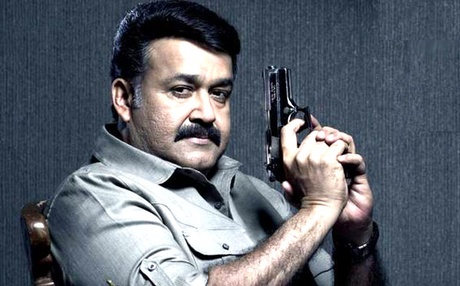 In "GrandMaster" and Liam Neeson's "Taken" ,the heroes are divorcees and they have teenage daughters-there ends the similarities .GrandMaster is the story of IPS officer Chandrasekhar who has been disinterested in his job for years since his divorce and then one day gets pulled into a case of a serial killer. The movie then is all about a series of murders and the cat and mouse game between Chandrasekhar and the serial killer. 
GrandMaster is by far B.Unnikrishnan's best work till date. B.Unnikrishnan deserves special credit especially for getting Mohanlal to play his age on-screen and giving us a police hero who is not 'larger than life' – He is calm, composed, dignified, he is sharp and focused on his mission and even looks perturbed and confused at times when things don't work .He also don't deliver any agonizingly long dialogues that you associate with most cop movies in Malayalam.
The first half has few scenes which don't hold your interest and the songs serve as hindrance to storytelling. But the movie picks pace in the second half and the suspense is well built with a well-executed climax. Few scenes really stand out – Mohanlal getting interested and solving a case after many years, the scenes where he gets the first and second letters from the killer and then finally when the mystery is revealed. Deepak Dev's background is superb and adds thrill to the proceedings.
After watching him in younger characters mostly bachelors and romancing young heroines in numerous movies over the past decade, finally it's refreshing to see Mohanlal playing a character almost his age sporting grey hair too. This is not a challenging role for an actor of his class, but nowadays very rarely do you see Mohanlal give his 100 % in a movie like he does in Grandmaster. After going loud and overboard in movies like Chinatown and Arabiyum Ottakavum , here he comes with a well restrained, measured and dignified performance. Among others, Narein looks cool but has nothing much to do. Same is the case with Priyamani whose talent is wasted.
Despite few flaws, GrandMaster does keep you engaged most of the time and Mohanlal's magnetic presence plays an important part in that. The latest news is that Mohanlal will play Dulqar Salman's dad in Priyadarshan's next .So when his character is making right moves on the screen , Mohanlal is definitely making some smart bold moves off-screen too.