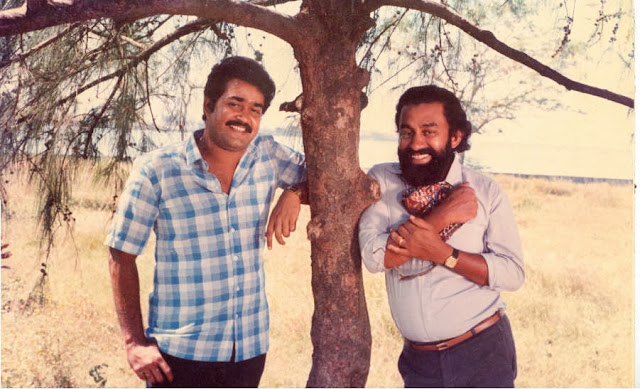 Sometimes you watch a movie to witness a director's genius at work. Sometimes for the sheer pleasure of viewing a fine actor at his best. The biggest feast for a cine goer is when you get to experience both of these in one movie. In Malayalam Cinema, we have had several great actor-director partnerships across years which had given us classics. But I particularly have a fondness to one combo- Padmarajan-Mohanlal.
Padmarajan and Mohanlal did only five movies together between 1986 and 1989. Each of those movies had stories to tell that were much ahead of its times. They were all distinct from one another in every aspect and yet all ended up finding a place in the greatest classics of Malayalam Cinema. A look back at each of these fabulous works.

Deshadanakkili Karayaarilla– As Mohanlal wrote in his blog last year, its for this movie that Padmarajan first united with the actor. Deshadanakkili Karayaarilla was primarly based on the girl bonding and the characters of Karthika and Shari. Mohanlal even arrives in the movie after one hour but like he did portray an important character in the story. Like most Padmarajan movies, the director leaves a twist in the climax here too when the girls committed suicide and leaves Mohanlal ,Urvashi and others in shock. Padmarajan's son once said that his dad felt that any other actor would have failed to match up to Mohanlal in climax where his expressions rightly conveyed the shock and guilt.

Kariyila Kattupole– "Ithu vayichu kazinjappo ente ippozathe pedi athalla. Swantham maranam ezhuthi vechathu angerkku aram pattiyathu pole case um bookile pole aa vital clue illathe kalaashikkumo ennanu.Ini avideyum aram pattiyaalo". Its tough to choose the best Padmarajan movie ever but if some one asks me to pick my three top Padmarajan movies , it would definitely include Kariyila Kattu Pole . Mammootty had the tailor made role in this terrific thriller where he gave a brilliant performance but nevertheless Mohanlal made his presence felt as the investigative officer . In the climax ,when Mohanlal is first shocked to learn that his brother is the killer and then when he destroys the evidence to save the latter's image – it becomes a scene that haunts us for long anytime we watch the movie.

Namukku Parkkan Munthiri Thoppukal –'Solomonte song of songsil parayunna pole namukku gramangalil chennu rapaarkam , athikalathu munthirithoppukalil poyi munthirivalli thalirthu poovidukayum mathalanarakam pookukkayum cheytho ennu nokkaam…' A proposal scene has never been so beautiful before or after in Malayalam. 1986 was a landmark year in Mohanlal's career and the actor who had not done much more than comedy or supporting roles stepped into the shoes of a romantic hero with great confidence, under the guidance of a filmmaker who perhaps excelled in this genre more than anyone else. Particularly the film's refreshing and pleasant ending made sure this movie entered the book of all-time classics. 

Thoovanathumbikal – Clara , Jayakrishnan ,"Davidetta….Kingfisher unda, chilled?", "Mmakoro narangavellam kachiyaalo" – Never a day passes where I don't see at least one reference to these names or dialogues in social media walls , movie forums or groups. It might not be the best Malayalam movie ever made. But there is no doubt to that Thoovanthumbikal remains the most popular , the most discussed and talked about movie in Malayalam. A movie that was not a boxoffice success due to its 'difficult to accept' theme at the time of its release ,went on to be a huge cult classic than both Mohanlal and Padmarajan would have ever dreamt. In Namuku Parkkan Munthiri Thoppukal's 'Solomon' and Thoovanathumbikal's 'Jayakrishnan' Padmarajan gave Mohanlal perhaps his best romantic characters of his entire career. Especially Mohanlal's controlled and nuanced portrayal of Jayakrishnan, a very complex character, definitely ranks as one of actor's best ever works.

Season – 'Veendum eniku therivu vilakkukal nashtamaakan pokunnu. Ithavana ethra kalathekku ennariyilla.Pakshe oraashwasamundu. Ipravashyam enikethire sahicharya thelivukal onnumilla. ullathu muzhuvan thelivukalaanu.ente shirtilum dehathum vare thelivukal. Mattethumaayi thattichu nokkumbol ithinu orupaadu sukhamundu' Ever thought a hero's narration in a revenge thriller could be this serene ,beautiful and poetic? That's where Padmarjan's Season stood out from other films of the same genre. Usually our movie heroes turn violent , their eyes turn red with rage or they clench their fists when they meet the villain who destroyed their life and murdered their friends. Here in Season, when Jeevan meets Fabrien, he just remains calm and cleverly plans his revenge without revealing his emotions. At the end  ,he takes Fabrien's body to the police and smiles despite being surrounded by the cops. As for Padmarajan, he once again ended his movie on a high note.

'Pappettane patti orkaathe oru divasam polum kadannu pokaarilla'– This is what Mohanlal says whenever been asked about Padmarajan. During the monsoons in July last year , Mohanlal paid tribute to the great filmmaker when he wrote 'Rain and remembrance' in his blog. The actor beautifully depicted the great friendship and the memorable moments they shared together. We all miss Padmarajan the master film-maker but there is no doubt to that Mohanlal misses him lot more.
Padmarajan's sudden and unexpected demise in 1991 took away from us one of our finest writers ever and a director who gave us so many classics to cherish even after all these years. It also brought a sad end to a wonderful and one of the best actor-director associations we ever had in Malayalam. .Like most others, I too often wish that these two had the fate to give us a lot more than what they already did.
P.S – Any article on Mohanlal and Padmarajan is perhaps not complete without a mention to Johnson master who was an integral part of the three out of five movies where the actor and director united. When Achuthankutty burns his brothers letter or when Solomon proposes to Sofia or when Jayakrishnan writes the letter to Clara, Johnson Master's beautiful background scores for those scenes were equally vital in making them the greatest movie moments in Malayalam.
Also Read:  Mohanlal- 35 years of a Superstar who is not ready to bow out
Follow me on Twitter:
Follow @fahir_me