2013 has been a remarkable year for Malayalam Film Industry. Both in the number of movies released and the quality they maintained, 2013 would have an important place in the history of our cinema. A record 158 movies was released this year and the most pleasing aspect is that its perhaps after a long time we saw such wide variety of great movies coming out in a single year. The industry's big pillars, Mohanlal and Mammootty bounced back in style this year. While some young actors like Prithviraj surprised us with the maturity and discipline he showed in selecting movies, others like Fahad Fazil have taken huge strides as a serious actor to be reckoned with. As far as heroines are concerned , we heard the good news that Manju Warrier is returning to Cinema and we also saw Shobana in terrific form after a long while in Thira.

Offbeat movies like Celluloid and cute little movies like Philips and Monkey Pen winning at boxoffice are great signs for future. Thrillers like Memories, Mumbai Police and Drishyam and comedies like Punyalan Agarbathies ,ABCD and Romans which were boxoffice successes did have enough ingredients in them to both entertain audience and garner acclaim. Veteran directors like Kamal and Sathyan Anthikad did well to re-invent themselves while young directors like Vineeth Sreenivasan, Jeethu Joseph, Lijo Jose and Ranjith Shankar have proved that they are here to stay. Among all, most importantly we also had writers who were the primary reason that these wonderful movies were made. 
Here is a look at the four script writers who left an impressive mark in 2013.
1. Bobby -Sanjay – To brand Bobby-Sanjay as the most trusted name among the scriptwriters we have today would not be a hyperbole at all .Barring a Casanova, their scripts have seldom faltered and they mostly have left a significant impact which have made us look beyond the director and the actor at these talented writers who are behind the fine works. Their Traffic remained my most favorite movie for last 3 years until Drishyam came this month. Their Ayalum Njanum Thammil triggered the conversion of an actor's haters to fans like it has never happened in the history of Malayalam.
In 2013, Bobby and Sanjay joined hands with Prithviraj again in Mumbai Police which helped to enhance the actor's reputation further. Mumbai Police saw one among the finest scripts ever written for a thriller in Malayalam and the final revelation did hit us like bricks. If only for a slicker execution from its director, Mumbai Police deserved to be a bigger critical and box-office success than it was. Manju Warrier cannot ask for a better platform to return as her comeback movie 'How old are you' is being scripted by none other than Bobby-Sanjay.
2. Jeethu Joseph – Jeethu Joseph directed two of the best movies in 2013 and he himself wrote the scripts for them too. From the announcement of his next project to the actor he casts to the commence of the shooting to the release date, this talented writer cum director's each and every move will be anticipated with bated breath by viewers and media alike now. I had been feeling for a while that Jeethu Joseph remained one of the most underrated writers and directors in Malayalam but all that changed a couple of weeks back when Drishyam released. Jeethu Joseph is now the hottest property in Malayalam Cinema. It might be easy to say that Mohanlal went nowhere to bounce back or saying Mohanlal is brilliant in a movie is like saying Dec 25th is Christmas but the fact remains it had been a long while since we saw Mohanlal in complete terrific form like we saw in Drishyam.
We have no one but Jeethu Joseph to thank for that. The manner in which he brilliantly mixed family genre with thriller and even left a message for all parents is something that has never been seen before in Malayalam. And few months before Drishyam, he made another taut thriller – Memories where we saw Prithviraj deliver one of his career-best performances.Whether its Drishyam or Memories, how Jeethu left a surprise for the viewers at the end that made sure we stood up and clapped before leaving the halls is another noteworthy aspect of this filmmaker. Jeethu does not want us to call him a 'writer' or a 'director'. He wants to be known as a 'storyteller'. Whatever it is , Jeethu, you are doing a fantabulous job in everything you do.
3. Rojin Thomas – This 21-year old young man wrote the script and co-directed the cutest Malayalam movie of 2013. From taking us through a nostalgic ride down our school days to using Mohanlal's clip from his much popular movie to play to the gallery, Rojin along with Shanil Muhammed filled loads of fun to their debut movie 'Philips and the Monkey Pen'. In the middle of all the fun, Rojin also did not forget to bundle in a nice message for teachers,children and parents all equally. Just as you thought you were about to finish watching a sweet fantasy movie , Rojin had a nice little surprise for you at the end which definitely shows the signs of a seriously talented writer in the making. Rojin Thomas- I am definitely waiting for your next script.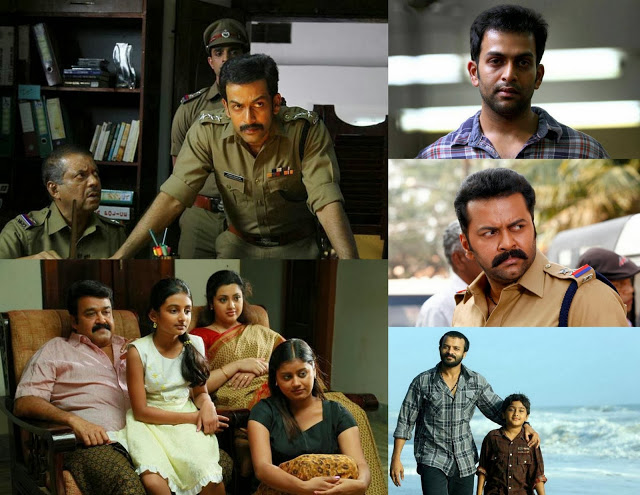 4. Murali Gopy – Gopy is widely regarded among the greatest actors of all times.His son, Murali, is now slowly strengthening his foot-fold in the industry as an actor and even more as a writer. As an actor , his selection of movies at times can go awfully wrong like the recent Kanchi. But as a writer, he is impeccable and this year's Left Right Left is definitely Murali Gopy's best work. Tangled in controversies, the movie did not get the deserved success in boxoffice but Left Right Left will definitely be going to talked about a lot in years to come. Some of the movie's dialogues and scenes rank among the best we have seen this year.
While the scene where Vattu Jayan refuses to apologize to Kaidevi Sahadevan's men would be undoubtedly Indrajith's best acting moment in his career,the one where Sahadevan explains to Roy why he want to climb the ladders, be rich and how he has turned cold-hearted is equally brilliant as well.A big kudos to Murali Gopy for writing those scenes and penning those memorable dialogues – 'Mappu Jayan parayoola, azhi enkil azhi, kayar enkil kayar' and 'Boorshaye jayikkan boorsha aayittu kaaryam illa; boorshayude achan aakanam'
A lot of actors' and directors' movies would be eagerly awaited in 2013 but I would be more interested and looking forward to each of the above script writer's next projects.All my favorite movies of 2013 were given birth to by these scriptwriters first before they were developed to the great works we saw on-screen. Keep going Bobby-Sanjay, Jeethu , Rojin and Murali..