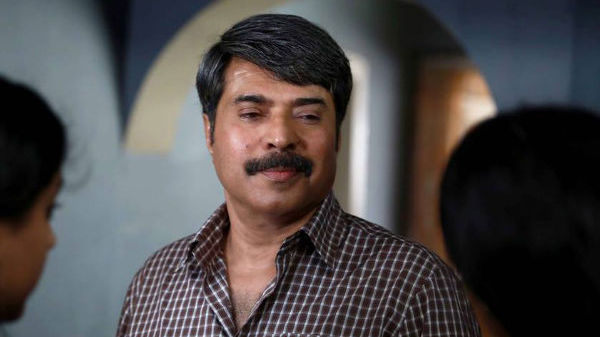 Mohanlal is a born actor and Mammootty a made actor. Its one thing that even many of their directors and fellow actors say alike. You cannot help but agree to it to an extent as Mammootty took years to acquire and master certain skills like comedy. But if there is something that he brought along with him right from the start of his career, its his ability to tug at our heartstrings in emotional scenes and its one area where he might even edge out Mohanlal slightly.
Whether its 1986's Poovinu Puthiya Poonthennal when he is drunk and describes to us how he lost his wife and son or its 2014's Varsham where he walks slowly to the doctor and asks "Poyalle"- when Mammootty's voice trembles on-screen , it brings a lump in our throats. It's been always as simple as that !
Its movies with tragic stories where Mammootty had given some of his most memorable performances. Doting fathers or brothers who shoulder the burden of the entire family – Its Mammootty who comes to your mind by default for such roles. Mammootty had been lucky to have some great writers who wrote some great characters and moments for him and the actor perhaps always elevated the impact of those scenes to much more than they even imagined.
In Thaniyavarthanam, when Balan Mash is introduced as just a distant relative in front of his sister's groom's family and when after a shock, he smiles and lies to them. In Pappayude Swantham Appoos when Balu tells Gopan 'Nee enne thallukayo kollukayo enthu venamenkilum cheytho.. Pakshe aaru paranjaaalum nee mathram parayaruthu ..orikkalum parayaruthu Gopa.. Njan ente mone snehichitilla ennu'. 

In Kaazcha ,when Madhavan waves good bye to the boy after he is left with no choice but to leave him there. In Valsalyam when Raghavan Nair tells his family "ente adhvaanathinu kanakkilla… ente jeevithathinu kanakkilla..Ente makkale njan thanna snehathinu kanakkundu .. ente kayyilalla.. eeshwarante kayyil'. – These are just only few examples from the actor's vast reservoir of acting moments that are etched in our minds forever and the ones which we visit again despite knowing it would end up us only in tears.
All above instances are where Mammootty had strong author backed roles and where he had almost entire length of the movie to emotionally connect with the audience . Its almost a given that Mammootty comes out in flying colors in such cases. Also in offbeat movies like Yathra, Ponthanmada and Dr.Babasaheb Ambedkar, its has often been a cakewalk for Mammootty to create such immense impact in scenes that require histrionics.( Who can forget that heartfelt scene when Ambedkar sits in a bench ,breaks down and wipes his tears when everyone has turned him down with no place to stay or sleep) But what amazes me is how Mammootty can catch you by surprise even in movies where he has only underdeveloped characters or very short screen time. 

Katha parayumbol was a movie that might have ended up as just an average fare until Mammootty's final speech at the school turned the graph altogether. All we saw Mammootty before in the movie were few scenes where he was shown as just a hot headed celebrity and still it took only minutes for the actor to bring the viewers to tears with his speech in the closing minutes. 

Kandukondain Kandukondain was a movie where Mammootty was more on the sidelines when it focussed on Tabu, Aishwarya Rai , Ajith and Abbas. But towards the end when Aishwarya Rai makes him open his mind , Mammootty easily turned it to the most beautiful moment of the movie and walked away with most laurels. For an actor whom you seldom associate with romance, he was a delight when he tells Aishwarya "Intha pacha kan devathaye kodukkuren , badrama pathukennu kadavul enkitta oppadichirikaaru"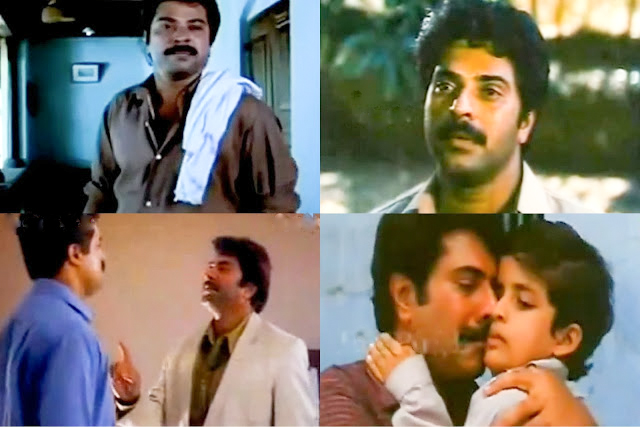 Even in Mammootty's comedy and action movies, most often its his emotional scenes that we take away with us finally. Rajamanikyam is a landmark movie in Mammootty's career for perhaps being the first time he was so effortless in performing comedy. But the makers were clever enough not to leave the actor's biggest asset out. The best scene of the movie might still be the interval portion when Mammootty once again his voice stutters in his trademark style as he reveals his true identity to his mother and others.
Siddique is another director who used Mammooty's strong point in his comedies -Hitler and Chronic Bachelor. 
Especially memorable is a scene in
Hitler
when Mukesh asks Mammootty to step out of his house. Mammootty brought out the hurt on his face so instantly that it was no surprise that Mukesh had to turn his eyes away immediately. We saw it happen in
New Delhi
too when he couldn't stop his own men from killing his sister's lover – he did not even need seconds to show the pain and helplessness in his eyes and face.
"Ente nenjinte ee nadubagathundallo kandu muttiya nimisham muthal keri koodiya ore oraale ullu.. athu meerayalla.. vere arumalla .. ee nilkunna krishnanaanu ente kinnan" -In HariKrishnans when Hari tells this to Krishnan , for a moment we almost forget that we have another huge superstar and equally talented actor in that same scene. 
'En thalapathiye Paatheengala Neenga'-
 In
Thalapathy 
when Deva takes Surya to his wife and others and tells this , we almost fail to notice that there is this country's biggest superstar with a magnetic screen presence is in the same frame. That's what Mammootty does to us when he emotes on screen. He has this magical ability to let us leave everything else aside and take us to a whole different world with him.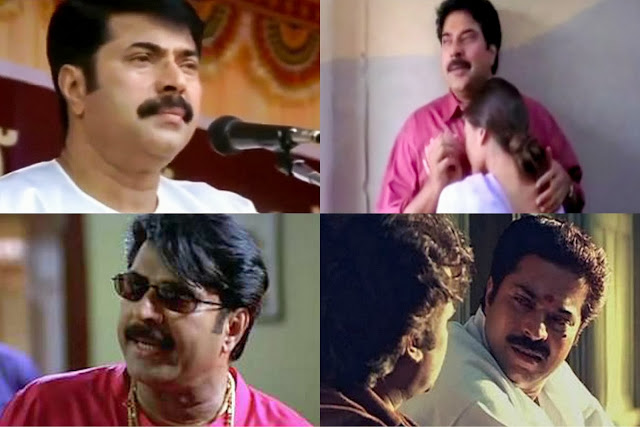 Fazil is one director who cast both Mammootty and Mohanlal in his movies almost perfectly realizing the roles they excel in. He was once asked who is the best among the two. It was without hesitating that Fazil replied Mammootty. When asked for the reason , these were his exact words -" Ezhu Ettu numberukalulla Mohanlalinte aduthu verum onno rando number vechu Mammooty pidichu nikunnille" . That one strength which Fazil referred here should be this – 'the art of bringing audience to tears'. Its this art that made him one of the greatest actors this nation has ever seen. 
Its this skill that he has always used to bounce back in style when he is pushed to wall after a series of failures. Its this skill that still give the younger actors a run for their money and the award juries headaches when it comes to announcing state awards every year. Its this reason I primarily watch any Mammootty movie.

P.S – I had to leave out references from popular movies like Amaram, Vadakkan Veeragatha , Kaiyoppu and many others and stick with my most favorite ones. I now realize the scenes which Mammootty has made immensely memorable with this amazing skill cannot be fit into one article. They are just too many !
Follow me on Twitter:
Follow @fahir_me