Interval scenes hold huge importance in movies. Many makers employ innovative techniques to make sure the viewers go out for their breaks with their expectations raised and wanting to return soon for the remaining portions. Many plot twists are revealed here. Punch dialogues that go down in history as the most memorable one-liners are delivered here. The music directors reserve their best work in these segments. Some of these scenes have even done wonders to few actor's careers .
Here are a look at some of my most favorite interval scenes in Malayalam.
CHANDRALEKHA – ' My Name is Alphie… How do you know my wife'.
I haven't ever wanted a second half to start sooner for another movie like I did for Chandralekha. With the help of arguably the best guest appearance ever in a Priyadarshan movie, the director succeeded in bringing all his viewers right to the edge of the seat. He brought a huge popular Bollywood actor and made him introduce himself as the character whom Mohanlal was playing in disguise. Though the immediate opening scene in the second half showed that it was just a trick for an interval punch, it still remains one of my most favorite interval scenes in Malayalam.
RAJAMANIKYAM – 'Manikyam ayulla angathinu orungikko'
Rajamanikyam remains a landmark movie in Mammootty's career as he carried off entire comedy in a movie effortlessly like never before. Still the makers were clever enough not to leave his biggest strength out – his expertise in emotional scenes. In the movie's interval scene, when he gatecrashes Manoj K Jayan's house, his mother confronts him and asks to reveal his identity. He does it in his trademark style leaving both the characters on screen and viewers spellbound . Very few actors can combine emotions with style like Mammootty can. After his emotional speech, he fires a shot to the roof, places the gun on Manoj K Jayan's chest , turns back and walks off in style . Your hearts are tugged,  you are thrilled and you are overwhelmed. Mammootty – Take a bow !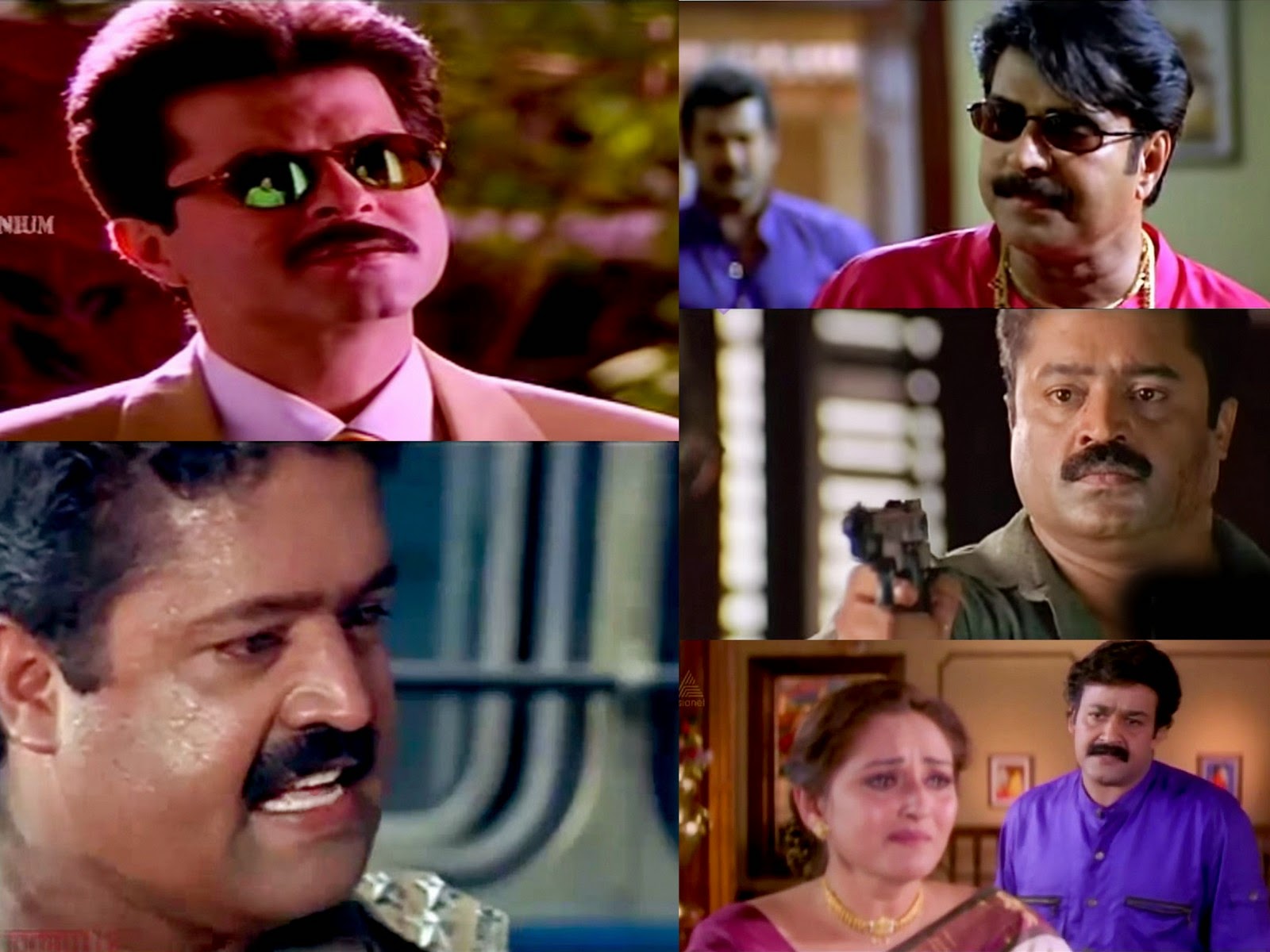 COMMISSIONER – 'Just remember that'
Ranji Panicker could have written all those fiery lines and it would have meant nothing on screen had any other actor  delivered it.  Suresh Gopi's career graph skyrocketed after Commissioner . One of the movie's best scenes is the interval when he blasts at his superior officers and walks out with police officers guarding on both sides. I remember reading that this scene's shooting badly affected the public as it caused a huge traffic jam for a good part of a day. But everyone who were present in the area that day might have found consolation later knowing that all the waiting was for such a hugely memorable scene.
DEVADOOTHAN -' Maheshwaranu kaazcha illaayirunu'
Sibi Malayil often quotes Devadoothan as a movie whose failure disappointed him most. His efforts clearly shows in each frame of the movie. He even made Mohanlal shed his weight a lot to make sure he looks apt for the character. In the first half , you were treated to a never before seen experience in Malayalam as the well captured shots, edge of the seat story telling and beautiful music all went in amazing sync. It reached its epitome in a well executed interval scene where Mohanlal reveals to Jayapradha that he did know that her lover was blind. That twist haunted me all through the break, the second half and even afterwards.
RANDAAM BHAVAM – ' Orikkalum snehikkatha ente achanu pakaramaaayittu…. Aa sthanathu ningaleyaanu njan..'
One another fine movie whose failure baffles me. One of Lal Jose's best works, Randaam Bhavam might have lost some of its momentum in the second half but the first half and especially the interval sequence was superb. Kishan (Suresh Gopi) had been always loyal to Govindji (Thilakan) but now confronts him after Sukumari's death. Just as others are in mid of a conversation and laughing, he pulls out his gun and shoots right in the head of the man who killed his aunt. Suresh Gopi then points the gun to Thilakan , but decides to spare him out of love and respect and then walks away . Less words are spoken but the impact is multi-fold !
RUNWAY – ' Adi Sakke'
Dileep has never looked this convincing in an action movie before or after. I still believe the reason Dileep sticks with the Udayan-Siby writers goes back to Runway. Valayar Paramashivam was a tailor-made character for Dileep and the actor succeeded in handling power-packed scenes. Few minutes before the interval, when Dileep challenged Kalasala Babu that his spirit lorries will cross valayar post in 24 hours, no one would have thought Udayan-Sibi could handle it so cleverly. After accomplishing what he promised, Dileep takes over, owns everyone in the scene and simply has a blast. The viewers should have left for their breaks extremely satisfied !
TWENTY20 -' Devan .. Deva Rajan… Deva Raja Prathapa Varma'
Before the movie release, Mohanlal fans were infuriated as their favorite actor was sidelined in the posters .Their patience was further tested when Mohanlal was introduced late into the movie and still remained subdued in the shadow of Mammootty. Things changed big time though few minutes away from the interval when Mohanlal comes out of the court barefoot. Four guys arrive the scene and one of them lays down him sandals . When Mohanlal wears it in slow motion, the music in the background changes. Another guy hands Mohanlal an expensive watch and he rolls up his sleeves. Wait, it still doesn't end there. As he walks now with his men behind , he takes and folds his mundu in his trademark style and I remember how the entire theater went frenzy ! By the time he reveals his identity to Mammootty and it writes interval on the screen, everyone now have loved this movie !
SANMANASULLAVARKU SAMADHANAM: 'Gopalakrishna Panikkar ?'
Watching these two men together in a frame itself is a pure delight. Two of our finest actors ever- Mohanlal and Thilakan have amazed us as father-son, villain-hero and even when one of them only appears in a cameo role. Just as Mohanlal tries his best to get rid of his tenants, he finds a new roadblock in the form of their uncle – Damodarji , a don from Mumbai. In the scene just before the interval, Thilakan comes down in car to a rollicking music and asks Mohanlal-  'Gopalakrishna Panikkar ?'- . Just for the gesture where Mohanlal drops his bag from the armpit and the scared tone in which replies – 'athe' , the scene is worth a watch any number of times !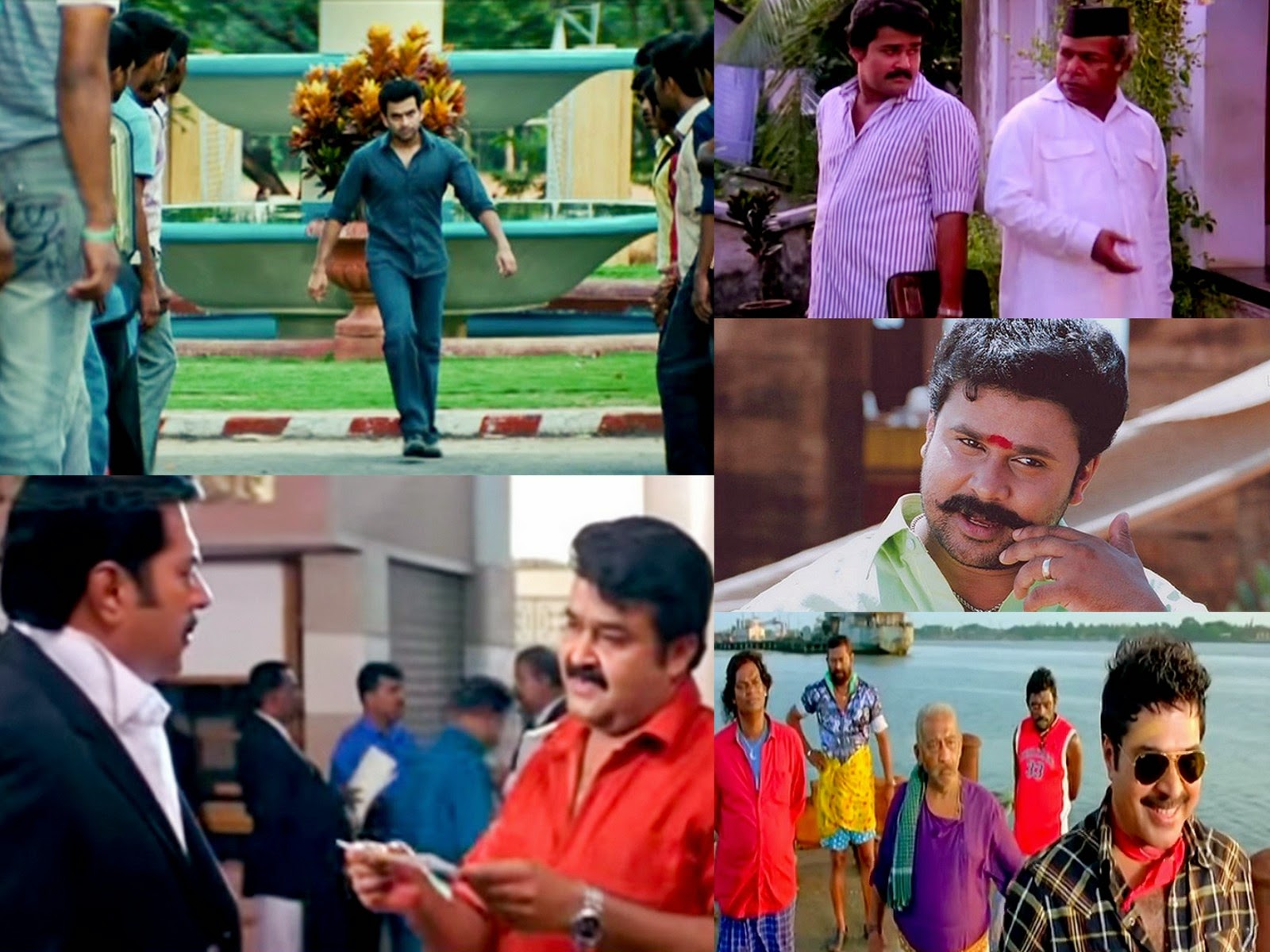 PUTHIYA MUKHAM – ' Ini kalichaal nammalil oraale undaakoo… Athu nee aayirikkilla'
Prithviraj had done a handful of good movies in his initial days before but its post Puthiya Mukham where his name started bringing larger audience to theaters. Puthiya Mukham was not a great movie by any means but it still worked due to three reasons . One -Prithviraj. Two- the title song which the actor sung for himself and which was a runaway chartbuster hit. Three – its stylish interval sequence. After he had beaten up the bad guys and given a stern warning to Bala , he walks away as the students make way for him and the song in his own voice starts in the background. Malayalam Cinema got a bankable action star after a long while.
BEST ACTOR -' Picture abhi bhi baakhi hai baai'
Mammootty's character goes through a lot of pain and humiliation in the first half of Best actor. It might not have gone well with many of his fans. But all their despair would have vanished when the actor walked in his new Avatar 'Bombay' in front of Lal and gang . I still remember the cheer , whistle and applause to which that scene was greeted. Well for Mammootty, he made the transformation look easy and carried off those suave looks even at the age of 58.
TRAFFIC – "The van is missing"
Traffic is an adrenaline rush experience the moment Sreenivasan, Asif Ali and Kunchakko Boban get into the van and Anoop Menon and other policemen control the traffic through walkie talkies . But their planned pace to the journey gets a sudden halt within few minutes when Anoop Menon finds no one is responding back to his queries and when also Sreenivasan's mobile is switched off . The traffic is blocked in several cities , the people have started to lose their patience and there is no trace of the van when it has to reach the destination in. Should say Anoop Menon did a crackling job in this entire sequence in what is perhaps his finest performance till date. He could pass on all his tension to the viewers when it writes intermission on the screen.
I am sure I have missed some other power-packed interval scenes. I would have also missed many more from the classics of 80s and early 90s because when I watched them later on small screen , I would not have exactly made out which exactly are the interval sequences. I just stuck to my most favorite ones here. Looking forward to hear from you all on which such scenes excited you the most.