Its not easy for our filmmakers to produce whodunits today.Movie viewers have watched so many twists and turns over the past years and its difficult to surprise them totally with a suspense at the end that they did not guess somewhere between the movie. Back in 1988, S.N Swamy created a terrific script for 'Oru CBI Diary Kurippu' where he showed us the murderer throughout the movie without directing even the tiniest of our suspicion to him and then caught us completely unaware at the end.
'Oru CBI Diary Kurippu' was based on a real life incident , the Polakkulam Case in which a hotel employee was murdered and dropped from the terrace to make it look like a suicide. Its lead character, Sethurama Iyer was inspired from the CBI officer named Radhavinod Raju. Despite having such a unique and brilliant script , it is one of those occasions where its central character and the lead actor towers than the rest everything. To call Sethurama Iyer, one of Malayalam's most remarkable characters and Mammootty's performance superb would still sound as understatements. 
Sethurama Iyer's popularity doesn't limit to that it was the first time ever in the country where the same character was portrayed as much as four times by the same actor.The character's cultural influence is unparalleled having continued to appear in various forms and avatars in parodies, stage shows and even other movies. There have been also abundant references to the investigative style especially the dummy-to-dummy scenes in many movies, one of the notable instances being Sathyan Anthikad's Pattanapraveshanam. 

Its just impossible to imagine anyone else providing complete justice to Sethurama Iyer other than Mammootty .The actor once expressed his displeasure in having to act the same role over again and again but the audience never got tired of his magnetic persona and trademark style.Mammootty who used to hold viewer's attention by mouthing fiery dialogues to villains before 1988 showed us that he could also amaze us by laughing off at his adversaries' provocative dialogues and using tongue in cheek lines only as needed. 
Sukumaran's Devdas was a fitting opponent to Sethurama Iyer.His famous confrontation sequences with Mammootty made sure the movie is still enjoyable for multiple watches even after the suspense is known.The makers would have definitely missed the versatile actor's services in the third and fourth parts of the series. It became customary to feature Jagathy's one appearance in disguise and his acclaimed dialogue -'CBI ennu paranjal central beurue of idiots ennalla' in all the sequels too. Janardhanan was one other artist to whom the movie provided a big breakthrough (just like Kireedam did to Cochin Haneefa) as it was where his lighter side was first revealed.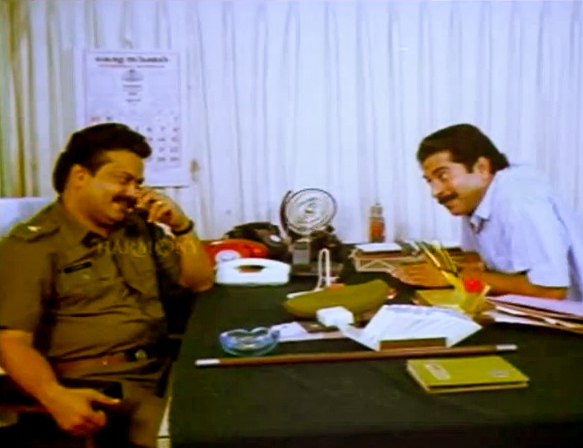 There are lot of movies where their background score play a significant part in their success but you cannot even think 'CBI Diary Kurippu' series and Shyam's sensational theme music separately  When the third part – Sethuramayar CBI was announced after a gap of 15 years , there would not have been many who did not change their mobile ring tone to CBI series' theme music and each time it played on screen during the movie in 2004, the theater just went uproar. Shyam is also noted for creating popular bgm for Irupatham Nootandu , New Delhi and August 1 but 'Oru CBI Diary Kurippu' remains my favorite.

Both 'Oru CBI Diary Kurippu' and its first sequel 'Jagratha' rank closely to one another among our greatest ever whodunit movies. But I still feel 'Oru CBI Diary Kurippu' is really special. Prior to this 1988 classic , we perhaps did not know that Mammootty could pull off a police officer with a calm and composed demeanor just as brilliantly as he did the angry cops . We haven't heard Shyam's kick-ass theme music before . We haven't seen an investigative style this unique .
Above all , it was where one of our all time best characters , Sethurama Iyer was born. 'Oru CBI Diarykurippu' was the first of its kind.