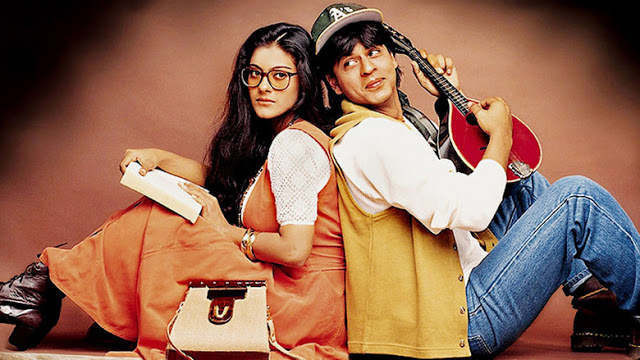 In a memorable scene from Dilwale Dulhania Le Jayenge , Simran's mother who realizes that her daughter is in love with Raj ,asks them to run away saying no one will understand their love. Raj politely refuses and tells her – "I will surely carry my bride away but only when her dad gives me her hand with all heart". Prior to 1995, Bollywood movies saw either the lovers eloping or fighting till the end when the parents don't approve . Some love stories even ended tragically .But no filmmaker had thought of a hero who would try the right and hard way to win the parent's hearts.
Prominent Director Yash Chopra's son – Aditya Chopra chose this idea for his debut movie and the rest ,as they, say is history. DDLJ broke the norms of the Bollywood romantic movies till then and went on to become one of the biggest blockbusters of all time .It also saw the rise of perhaps the country's best romantic hero ever – Shah Rukh Khan .On Dec 12th 2014, DDLJ completed 1000 weeks since its release in Oct 1995 and further extended its record for the longest-running film in Indian cinema running all these 1000 weeks in Maratha Mandir theatre in Mumbai .What a monumental record this is !!!
Ramesh Sippy's Sholay held the previous record for the longest running movie when it was screened in Minerva theatre for more than 5 years. Ever since DDLJ crossed Sholay, every other single show of the movie at 11:15 AM in Maratha Mandir keeps making it further tough for a movie in future to cross this record. Now as it crossed 1000 weeks, it has clearly covered double the period as the previous record holder. Neither Adithya Chopra nor Shah Rukh Khan or for that matter any one associated with the movie or the audience who watched it back in 1995 would have thought the movie would come this distance after 19 years.
The fact that Yashraj house even released a new trailer on this historic occasion only tells how grand this milestone was celebrated. What is more important is that the movie did not just run for the sake of the record and did find a fine crowd of audience and earn a sizeable profit for the theater owners for a good portion of these 1000+ weeks. So what is so special about DDLJ that no other love story in Bollywood which followed in later years had not been able to reproduce ?
Right from the movie's initial sequences where Simran convinces her Dad to go for the tour , Raj and Simran's first meeting when the train starts off, the initial few clashes, then getting close to each other ,realizing that they have fallen in love and then the second half where Raj follows Simran to India and tries to impress her parents – the charm and magic associated with this masterpiece has been rarely found in any other Bollywood romantic movie. Its just plainly impossible to find flaws in Aditya Chopra's perfectly crafted screenplay. The romance between the lead pair was cute, handled delicately and developed slowly as the story progressed rather than the run of the mill 'love at first sight' stories. 

There was a fair share of well written situations giving reasons for both the characters to fall in love with the other in the first half. In the second half, when Raj decides that he would take off with Simran only after approval from her dad, it oozed tons of freshness showcasing a hero never seen before. On the same hand, the parents of the couple were also portrayed differently where for once they were not all pure villains too. In fact among all the characters who looked original, it is Amrish Puri's role as Simran's father who lent the most credibility. He was strict and traditional-minded but still loved his daughter . It is only after giving it a lot of thought , he finally decides to leave her to the man who could give her most happiness in life.


While all this happens in the story, there is neither a single moment of boredom nor is there a single scene that you feel unnecessary when you watch it over and again. In turn, there are a number of sequences that still stays with you today -the 'palat' scene where Raj proposes Simran and then suddenly laughs saying he was joking and waits for her to turn while walking away, the one which I mentioned earlier where Raj tells Simran's mom that he will carry his bride only with her Dad's approval and my favorite scene -the one where Raj prays in the Church that he wants nothing for himself but just wants to see Simran's prayers fulfilled.
The much famous climax where Simran's dad finally leaves hold of her hand asking her to go with Raj and where she runs to Raj created such a huge impact that I don't have even a count for how many other Indian movies have copied the same ending with small variations like railway station replaced by airport, bus stand etc.

Each of the seven songs in the movie was awesome and so was the background music which enormously helped various important segments in the movie. I still remember watching those TV shows with the countdown for movie songs where "Tujhe Dekha To Hai Janaa Sanam " remained at number one for a very long time. The dialogues were brilliant. Some were poetic , some were life-like. The legendary- " Its alright Senorita, Bade Bade Deshon Mein Aisi Choti Choti Baatein Hoti Rehti Hai……" remains a one-liner that still influences real time conversations a lot.

Aditya Chopra in an interview years later told that his first choice to play Raj was Tom Cruise and how lucky we are that it did not happen. When we turn back , its impossible to imagine someone else playing Raj. A guy with playful nature but a big heart, Raj was a masterful creation by Aditya Chopra and Shah Rukh Khan's charming and energetic persona fitted the character amazingly well. At the end of the movie when he stretches his hands to his girl, he had not only won the her father and her family's hearts but also millions of hearts across the country.
Shah Rukh Khan was a complete natural when he romanced on-screen and the nation stood up and took notice of it. He enjoyed unparalleled success for many years but Raj remains his best character and DDLJ perhaps his best ever performance too. Kajol was a perfect match for Shah Rukh Khan and they made one of the greatest pairs in Bollywood who had 100 % success record whenever they came together for a movie in later years.

DDLJ had been an inspiration for filmmakers over all these years and continues to be so even today. A lot of NRI boys and girls have fallen in love in different movies ,but no one has ever been able to recreate DDLJ's magic. It remains a fact that even Aditya Chopra's next two movies couldn't reach anywhere near DDLJ's cult status. A number of romantic movies have fascinated me at the time of their releases but my interest in them dwindled as years passed . DDLJ, after all these years, still continue to amaze me each time I watch it on-screen.
As for the record of completing 1000 weeks in a single cinema hall, no other movie in the country in future might even get close to it. So let us seize the moment , cherish and celebrate it !