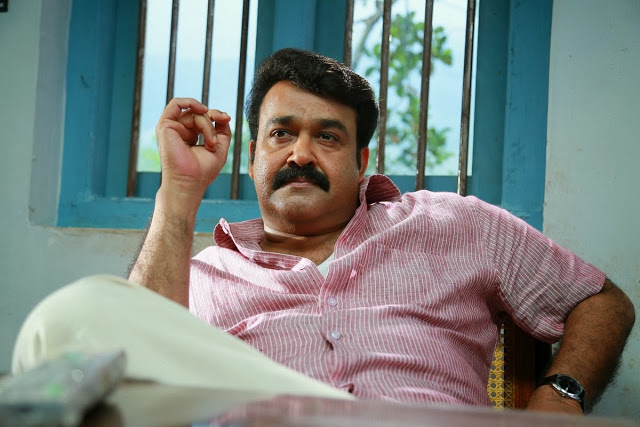 On Dec 18th 2013, Mohanlal has had four flops in that year .Drishyam's trailer had nothing exciting in it and was not a movie that everyone really looked forward to. On Dec 19th 2013, Drishyam releases. At the end of the movie, when Mohanlal walks out of the police station , everyone stood up and gave a huge applause for the amazing 164 minute they witnessed in front of them. Over the next few days and months, Drishyam would break the box-office record of highest grossing Malayalam Cinema ever, it would next break records in DVD sales and then also the TRP ratings when it is telecast on TV. 
Many movies need several years to attain the classic tag after depending on how fondly people remember them , how often they return to them and how much they talk about them. Drishyam reached there within only few days from its release. Here is revisiting and dissecting the various aspects of this landmark movie that completes one eventful year this Dec 19th.
Mammootty V/S Mohanlal for Georgekutty : Now perhaps no discussion on Drishyam could be complete without a mention to the most debated topic among the two superstar fans that happened in social network and outside during the first many days after the release. Mammootty was the first choice for Drishyam's Georgekutty and Jeethu Joseph himself confirmed this on various channels after the movie's release. All the while watching the movie, I was thinking why Jeethu would have thought about Mammootty because this is one director who casts his actors perfectly just like you saw Prithviraj and Dileep excelling in their lead roles in Memories and My Boss. As it entered the final half and the character required to display histrionics, I realized why Jeethu pictured Mammootty in his mind in the first place. There was no doubt that Mammootty would have shone better in the final moments especially when Georgekutty speaks those emotional lines to the dead boy's father. But at the same time, you cannot imagine anyone other than Mohanlal doing justice to those light-hearted scenes in the first half as well. Overall I am happy that the role came finally to Mohanlal because when you turn back, its perhaps Mohanlal's trademark subtlety that suited the movie better and did wonders to the whole product.
Jeethu Joseph – From an underrated director to a respected film maker in the industry : Whenever I used to refer Jeethu Joseph before Dec 19 2013, I would add 'underrated' in those lines. Because I did believe that Jeethu Joseph was one director who never received his due credit in the industry despite giving us easily the most enjoyable Dileep movie in years in My Boss and making easily one of the best thrillers of recent times in Memories. Today ,as Drishyam completes one year, Jeethu is now the most sought out filmmaker in Malayalam. If all eyes are currently on the Tamil remake of the movie where he is teaming up with none other than Kamal Haasan ,his next Malayalam project would be looked forward to with even bigger anticipation.
Resemblance to Devotion of Suspect X: From the time Drishyam released, we had been hearing that Drishyam is inspired from many movies including the Hollywood film – Before and After. But if Drishyam holds a strong resemblance to any work, it is the Japanese novel – 'Devotion of Suspect X' and its movie version-'Suspect X'. Now Jeethu claims that he hasn't read the novel or watched the movie and since he is a director whom I respect , I would believe him. But nevertheless the similarities to the novel cannot be overlooked especially when it comes to the protagonist recreating the days and using techniques like going to a movie and keeping its tickets for proofs. But copy or not, I loved Drishyam a lot better. The Japanese movie was dragging and little difficult to watch if you keep aside the suspense elements.

Return of the 'earthy character' by Mohanlal : In one of his interviews this year, Mohanlal told that even apart from Drishyam ,there still have been movies in recent past that he holds close to his heart. He first mentioned the movies – Pranayam and Thanmatra. As he paused, I knew the next movie which he was going to say. It was Bhramaram and I was correct. All these 3 movies are directed by Blessy. Mohanlal has always been a director's actor and if you closely examine his career , it shows that he has delivered the best when he works consistently with a talented director. Its apparent that there has been no other director in recent years who have exploited Mohanlal 'the actor' like Blessy had and I wish Blessy do his every other movie with Mohanlal. But except for Thanmatra to an extent, Blessy's movies have failed to connect entirely with the audience .That's where Jeethu succeeded completely. He gave us an earthy character that we had been wanting from Mohanlal for a long time.He extracted a fabulously restrained performance that reminded us of the Mohanlal of 80s and 90s. Most importantly the character Jeethu created for Mohanlal found complete acceptance from the audience. Before Drishyam ,when did I last saw such a completely satisfied Mohanlal performance and a movie , both together – I don't remember honestly ! 
Scenes that still stay with you: Drishyam had a comparatively slower first half but I loved one scene where Georgekutty and his father-in-law spend few moments together showing the strong bond they shared. Even the scenes around the dinner table that last for several minutes might have been a risk that Jeethu took but he should have been sure that many families could completely relate to those scenes. The entire second half from where it's a cat and mouse game between Georgekutty and Police is brilliant and every single moment leaves a big impact. Especially memorable are the scenes when Mohanlal counter attacks the questions from police with clever responses during their visit to his home for an interrogation, when Asha Sharath dissects the 'day recreation' technique by Mohanlal and when Shajon looks at the small girl with fiery eyes after beating up her parents. But as he has mastered it by now, Jeethu Joseph keeps the best three moments of the movie to the last. First – when Mohanlal tells Meena that the secret where the body lies will go to the grave with him . Second and my favorite scene from the movie – The conversation between Siddique and Mohanlal where Mohanlal finally reveals indirectly that he and his family are responsible for Siddique's son's death. Third and the one for which the entire stood up and gave a huge applause – when Mohanlal slowly walks away from the theater revealing to us that its under the police station , where he has buried the body ! Take a bow Jeethu – You are a genius!
Strong Message to two different types of parents : A fabulous thriller with enough twists and turns to keep you on the edge of your seat, a Mohanlal performance that bowled you over after a long time and a near-perfect execution – Above all these Drishyam had something else too – strong messages that parents could carry with them at the end. Jeethu showed us two types of parents in his narrative and how they could correct themselves from what they are doing .First was more transparent, of Siddique and Asha Sharath, who only gave their son what he wanted but never really went into his life to see what he is actually doing. Second was that of Mohanlal, one many might not have noticed properly. Georgekutty did go to great extents to protect his family in the second half but in a way he was redeeming himself (he did that perfectly too).He was carefree in the first half when staying at his cable-office at nights and keeping away the receiver of his phone despite knowing that there are three ladies in his home and they might have to reach out to him in case of emergencies. You can see this attitude in his conversation with the Police Station's contractor in the first half .When the latter asks Georgekutty what his family will do at nights, he just replies casually they can take care of themselves. It was bold on the side of both Jeethu and Mohanlal to portray Georgekutty's character honestly
Influence of Cinema on Common Man : Among all the wonderful things, if you are ardent movie lover, you would have loved how Drishyam depicted this too. Georgekutty has not studied past 4th standard but he knew 5 languages and has gained all his knowledge from his observation skills especially through the medium of Cinema. Jeethu expertly showed how big an influence this medium is in a common man's life when he made Georgekutty use his experience from watching movies to help others from his village and to bury the evidence to protect his family.
Viewer's attitude towards the System : Trivandrum City Police Commissioner and Kerala Jail ADGP both came out recently slamming the movie for sending out the wrong message to the viewers by showing a family who hides out the truth winning at the end. Both of their criticism will have no impact on the viewers other than adding to the publicity of the movie. As Mohanlal pointed out in an interview, a major reason for the massive success for the movie is that the viewer's hearts went out to the hero completely. We are fed up of the system that we don't want the truth to come out but instead desired to see justice for the family. We wanted the police to fail in their investigation badly so that Georgekutty wins and that indirectly showed how much we care for the prevailing system.

Other performances that left a mark : Jeethu Joseph and Mohanlal gained the maximum mileage from Drishyam but others too left an impressive mark. Kalabhavan Shajon was a revelation and his terrific portrayal of the hard-hearted Sahadevan Constable will take him places. Meena made a good comeback to Malayalam and both the girls did a decent job. When it comes to emotional scenes, Siddique has always shone and he matched Mohanlal step-by-step in the final moments of the movie. I found many singling out as Asha Sharath as the sole negative from the movie during the initial days but at the end of one year, she is the proud owner of a Supporting actress Filmfare award and has also bagged many other prestigious projects by now. As the investigating officer who matched Georgekutty almost step by step until giving up at the end, she was indeed an absolute treat to watch. 
The 'Highest Grossing movie ever' Status : "Drishyam's success has nothing to do with me .If it was any other actor in my place, Drishyam would have been a success too. Only the magnitude of the success – that would have varied". These lines that Mohanlal told in his interview with Brittas beautifully sums up the success of Drishyam. The 'credit' of Drishyam's success as Mohanlal noted belongs entirely to Jeethu Joseph- his sound script and near perfect execution. But the 'magnitude' of its success completely owes to Mohanlal , his stardom and his huge fan following who had been waiting for such a complete performance from the actor for some time now. I would also say that the timing helped the movie as well. History has always shown that an above average Mohanlal movie that comes out after a string of his flops has found immense success . So for such a great movie that Drishyam is, this huge success doesn't come as a surprise at all. 
Remakes to other languages : The Kannada and Telugu versions have already released in 2014 and were big box-office successes too. The Hindi remake is being planned with Ajay Devgan later in 2015. But the remake everyone is eagerly looking forward to would be the Tamil version with Kamal Haasan. For two actors who are considered to be the best ever this nation has produced, this would be the first time one legend is getting into the shoes of a character that the other has portrayed already and no one would want to miss out how it turns out.
Drishyam is a landmark movie in Malayalam. It is harsh to expect such a product from Mohanlal or Jeethu in their next movies because masterpieces like Drishyam happen only once in a while. Personally for me it has displaced Traffic as the best Malayalam movie that I have seen in this decade so far. Drishyam has broken the record of the highest grossing movie only within a month from its release and by the time it completed the theater run , it had already set a bar so huge that it is going to take time of any movie in near future to reach there. When a lot of the undeserving movies has held this place in the past, Drishyam is one movie that deserves every bit to stay there for long. By all means it's the best thing that has happened to Malayalam Cinema in a long time.   

Follow me on Twitter:
Follow @fahir_me