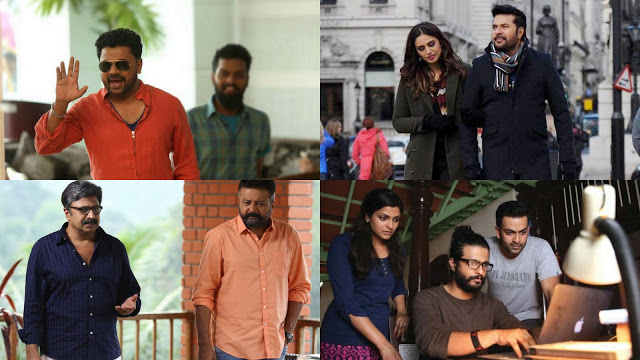 With one and half months to go, here's a look at movies and artists in Malayalam who would have won awards if there were some interesting award categories in 2016.
Warning – This is purely and entirely sarcastic !
"Best Fantasy Movie" Award – King Liar

Who told Malayalam Cinema cannot match upto Hollywood when it comes to fantasy. In King Liar, Dileep shows Madonna and her friends his photos with world's famous celebrities and they believed. An ordinary crook in Kerala, he lands up a high profile director job in a fashion company in Dubai. Asha Sharath shoots him from within 10 feet and Dileep flies in the air and escape every bullet. All this and much more that defies all notions of realism happened in King Liar.
"Best Social Message Movie" Award- White
At one point in the movie, Mammootty notices Huma doesn't wear seat belt ,asks her to immediately get out of the car and then drives away. The social message of how important it is to wear your seat belts has never been conveyed better in movies ( What happened to her alone in the streets at night doesn't matter though)
"Best Twist" Award – Jacobinte Swargarajyam

When Vineeth wore a simple dress, Nivin thought he was some security or staff in the office. When he went inside , came back in suit and introduced himself as Yusuf Shah, Nivin was shocked and so was the audience. It was the kind of twist that would have made Manoj Night Shyamalan regret making Sixth Sense.

"Best Escape from a Movie Set" Award – Siddique ( Aadupuliyattam)

"There is no specific term for your condition in psychiatry", " I have consulted with world's all greatest professionals", "There is one guy who is extra ordinary" – Usually a psychiatrist would tell this with some gaps in a movie. But Siddique tells all this in one shot and then left the movie in a jiffy. Looks like after reaching the set, he came to know what he signed off for.
"Best Jobs in a movie" Award – Ooozham

Hero has a job in U.S where he is an expert in making explosives . His friend is an even bigger expert in hacking who turned down a Microsoft job because it looked too boring to him. Add to that villains who have no brains, revenge has never been easier !
"Best Mohanlal" Award – Anoop Menon
While Mohanlal was missing in action the first 7 months of the year, Anoop Menon with his sheer dedication and perseverance made sure the audience did not miss Mohanlal through movies like Karinkunnam Sixes and Paavada. He literally lived as Mohanlal in all his movies in 2016 ( which has been the case in past too). It is even reported that Anoop Menon tried the app – "Ningalile Mohanlal kathapathram ethu" – around 20-30 times but only got characters from his own movies as results.

"Best Name for a Movie Character" Award – Daddy Girija ( Pulimurugan)

It was Suraj who played the character intended to provide the comedy and laughs in Pulimurugan. But each time someone on screen with a serious face said "Daddy Girija" is a dangerous guy or a brilliant guy, the audience had better laughs !
"Most Selective Actor" Award – Jayaram / Santhosh Keezhattoor 

No its not Fahad Faazil as you think ,who did not do a movie after Maheshinte Prathikaram in February 2016. Jayaram who wouldn't do any movies other than where he is the solo hero and Santhosh Keezhatttoor who wouldn't do any movies other than where he is the father of the hero and dies – No one else have been more selective and particular about their roles than these two actors.
"Best Movie Title" Award – Welcome to Central Jail
For giving an experience that entirely fits its movie title. This one doesn't need further explanation.

Follow me on Twitter:
Follow @fahir_me