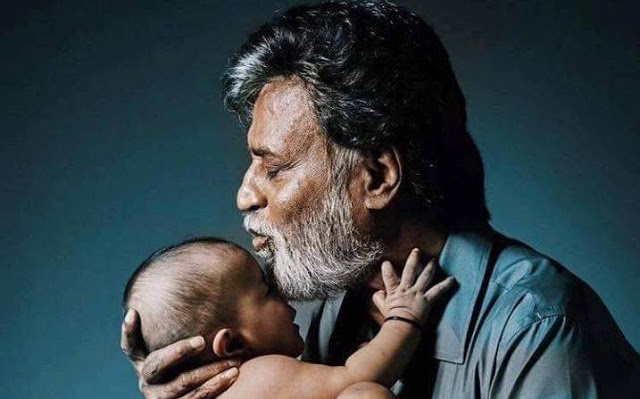 Few minutes into Kabali, Rajnikanth visits his home for the first time after 25 years when he gets out from jail. In front of the house, he feels like his wife from 25 years back holds his hands and takes him in. As he passes from one room to another , it takes both him and viewers back to their old fond memories.All the while Santhosh Narayanan's serene music flows through the background . Take Rajnikanth's last several years and it might be difficult to recall when you saw such a beautiful scene in any of his movies.
The only mistake Kabali's director Pa Ranjith does is that he let Kabali be promoted using a racy and stylish teaser and the dialogue – Neruppu da. That is unfortunately huge as Rajnikanth fans who thronged in to watch a huge mass movie would be disappointed to see a completely different output. Pa Ranjith picks up the biggest superstar of the country for his third movie but makes no major compromises as he treats Kabali almost the same way as he made the his first two terrific movies – Attakathi and Madras.
Kabali has a pretty ordinary story. Not even once brain is used over brawn when the hero who is a gangster has to outsmart or take revenge on his rivals. But then the movie is more focussed on Kabali's search for his family and Ranjith scores all the points in that part of the story. His handling of the flashback scenes on what happens to Kabali's wife and daughter is smartly revealed piece by piece. His execution is classy in several scenes especially 15 min before interval.

This seems to be one movie Rajnikanth really enjoyed doing from the fact that he did not let his daughter or producers change the climax of the movie. This might not be a movie that please all his die hard fans but it is one movie they would be glad is part of his filmography later. The interval block should be even a huge surprise to his fans who hasn't seen anything but the actor deliver a punch dialogue before they go for their breaks.
Where Ranjith restricts him with mass dialogues and scenes though, he makes up with sequences to let the superstar "act" after a long time and Rajnikanth makes the most of it. He is really good in few emotional scenes in the second half though I don't want to leave out the spoilers on where exactly they are. His chemistry with Radhika Apte is a delight and how refreshing it is to see a Rajni movie without a dance sequence with the heroine !

Among the support cast , Attakathi Dinesh and Dhansika shine equally.The foreign actor who plays the main villain is poor and another capable actor in his place would have made a great difference. G. Murali's cinematography deserves mention and finally Santhosh Narayanan – Isnt this guy a genius. His Njeruppu Da song almost played as equal role as Rajnikanth in the tremendous advance booking and appears exactly at the thrilling scenes in the movie. His background music is once again a gem and adds a lot to the feel just like his previous works – Madras, Jigarthanda, Iraivi or Iruthi Suttru.

Mani Ratnam once said Rajnikanth is the most difficult superstar to write a story or a character for because his fans are never ready to get rid of the larger than life they have built for him in their minds. They cannot stand to see him play a normal character who remain silent to an insult , who fails or loses or who dies in a movie.  Mani Ratnam still remains the only director in last 2-3 decades to make a class movie with Rajnikanth and make it successful too. Through Kabali, director Pa Ranjith does not achieve that feat completely but does come a lot closer.

Kabali might be a huge disappointment as a mass superstar movie. But it is still a very decent movie on its own with its leading actor keeping his best foot forward in a long long time. You might have heard a lot of negative reviews about it today from the viewers who went in for the first few shows. But I think from tomorrow as people get in knowing now what to expect ,they would start liking it.