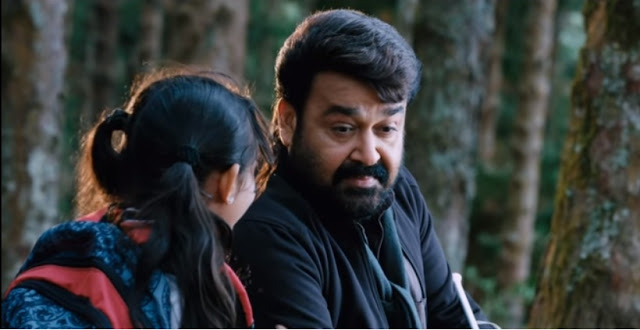 The first half has just completed and Priyadarshan has given a terrific thrilling interval block where the viewers would be curious to know what happens next. As the second half opens, you are treated to a comedy sequence instead between Mamukkoya and Chemban Vinod where the former keeps saying "Aadyam Kandathu Njammalu thanne" while the latter tries to find the actual first witness for the murder just happened.
Reminiscent of the iconic Kakkakuyil scene between Cochin Haneefa and Jagadeesh, the entire multiplex bursts into non-stop laughter. This is Priyadarshan at his best. This is a man who is trying a different genre to bounce back from his recent failures but who still hasn't forgot his roots. This is a man who is determined not to give up this time no matter what. And finally he does succeed.
The first half of Oppam is slow paced as Priyadarshan takes time to establish characters and the main thread of the story. You have to be slightly patient through this period. The director tells us what Jayaraman(Mohanlal) do for a living, who are all related to him and also throws in few clues to state that his leading man though blind has a set of special skills. It is actually just 10 minutes prior to the interval that the movie actually shifts gears and from there until climax it doesn't really let you take your eyes off screen.
The second half is all about the cat and mouse game between Mohanlal and Samuthirakani who is behind the former like a shadow and Priyadarshan scores all his points in this segment. The writer in  Priyadarshan is in fine form especially in the scenes where Mohanlal counts the steps Samuthirakani has walked or where he wouldn't disclose to the police the location of the kid as he realizes Samuthirakani is around or where he makes sure Samuthirakani is not nearby before he dials the number in the phone booth. Watch out for a great "clap and whistle" worthy sequence during an interrogation at Police Station too though I don't want to reveal much on that here. The climax is little overstretched but it nevertheless is the fitting ending.
Most actors try to keep it simple and look at one direction or dont move around their eyes much when portraying blind characters. In Oppam, one moment Mohanlal keeps his eyes wandering, looks to left or right or at faces. But just as you start to wonder if he can see, the next moment he moves his eyes away , he stumbles or catches hold of something nearby for support. He also twitches and raise his eyebrows when he is keenly listening to something. And he does it all with great precision. .
He just instantly bring out that anxious expressions on his face whenever he sense Samuthirakani is around. He makes the transformation scenes in the police station look very believable  This is one outstanding performance. It is so good that it walks straight into the actor's rich repertoire of most memorable performances. It is so good that you realize what a crime it was to waste this talent for most part of last few years.
Ron Ethan Yohaan's brilliant background score has perhaps the next vital role after Priyadarshan and Mohanlal in the movie. The effect it creates especially during the interval sequence is enormous. The 4 Musics team has given us two lovely additions to the great store of memorable songs from the Priyadarshan-Mohanlal-M.G Sreekumar Trio . Both "Minungum Minnaminunge" and  "Chinnamma Adi" are equally good. Mamukkoya- What a delight this man was for whatever short time he appeared. Chemban Vinod is good. Samuthirakani is aptly cast while the same cannot be said of Vimala Raman.
Oppam is not without flaws but it has just enough in it to make sure your two and half hours inside the cinema hall is totally worth it. A lot of it has to do with Priyadarshan's writing that has the right amount of thrills to keep you engaged throughout. A lot of it has also to do with Mohanlal's gift which makes even the hardest things look so easy on screen. Malayalam Cinema's finest actor-director duo has now made their grand return. Now we could look forward to their next union with more enthusiasm.
P.S – 19 years back when I went in to Chandralekha and laughed my heart out, I did not know its basic story was from an English movie and even after learning it later, I still have the same great admiration for the Malayalam version. Which is why when most are still asking around and searching vigorously which foreign movie Oppam is "copied" from, it doesn't really matter to me at all !

Follow me on Twitter:
Follow @fahir_me