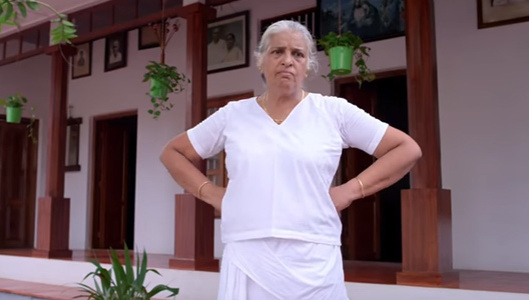 Oru Muthassi Gadha has its heart at right place. It does convey a good message and it has several moments that bring a smile on your face. I liked the title sequence which once again shows Jude Anthany Joseph is one director who wants to keep trying things differently .But have to admit it is still several notches below his terrific debut – the immensely entertaining Om Shanti Oshana.
The director's choice of some actors and actresses leaves you wanting more . Rajini Chandi is half good, half very average in her portrayal of the hot headed Granny. The irony is that Bhagyalakshmi's voice sounds so young that it doesn't actually suit her at all ! Rajeev Pillai and the director himself are honestly annoying in the second half of the movie. There are also few plot holes that glare at you especially when things go at slow pace in second half.
If there is one casting that worked and one person who impressed me most , it is Suraj Venjaramoodu. The actor's transformation from someone who could do only loud comedy once to a highly dependable character actor who can still make you laugh is commendable. He is awesome when he stands shocked after seeing the enthusiasm with which Lena invites his boss inside his house or when he tries to put a song and liven up everyone's mood in the car. The second half does suffer when he is away for most part.
Oru Muthassi Gadha is a decent movie . Just that with its great theme, it could have been lot better.