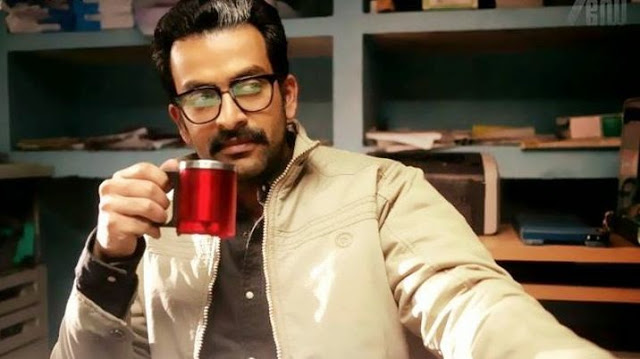 "The most popular and sought out young actor of Malayalam Cinema" – that's one tag that has been always safe with Prithviraj throughout his career. Still there are two aspects where he had been rather unlucky – One that he was not in the industry when some of our greatest filmmakers like Padmarajan, Bharathan and Aravindan were around and when others like Lohithadas were at their prime. Second that he arrived in Malayalam Cinema behind two stalwarts – Mammootty and Mohanlal that whatever great he does , it appears diminished to many as they straightaway compare his characters, movies and performances to those by these legends.
There has been one area though where Prithviraj has been extremely lucky . Its how in one-fifth of his movies, he has portrayed the role of police officer and yet they have never looked monotonous or repetitive to the viewers as their theme, story, his characterization and performances have mostly all been distinct from one another. Most of them find a place among his most memorable characters till date too.
Vargam's Solomon Joseph,a sub inspector who would go to any extreme for the sake of money, easily ranks as one of his best performances from the early part of his career. His debut in Telugu as a bad cop in Police Police won him rave reviews and was one of the rare occasions where a deliciously villainous act overshadowed the hero. When one of India's finest filmmakers, Maniratnam decided to cast Prithviraj in his movie, it was again in a police uniform. Prithviraj reveled as Dev in Raavanan and especially in the last few minutes when we get to know about his true shades, he was brilliant. 

2013 , which would go down as the most important year in Prithviraj's career,saw him as a cop in as many as three movies but again no one complained. His ACP Arya in Aurangzeb helped to make a decent return to Bollywood after an immensely forgettable Aiyyaa. Especially how he held up to veterans like Rishi Kapoor and Anupam Kher found special mention in many critic reviews .
In Malayalam, Memories and Mumbai Police were both high intense suspense thrillers but the audience thoroughly enjoyed them both equally as they were chalk and cheese when it came to its treatment, hero's characterization and story-line. If in Mumbai Police ,he portrayed with aplomb the confusion and struggles of ACP Antony Moses who was chasing his own identity, in Memories he was pitch perfect as the drunkard officer Sam Alex.
Few months back ,Prithviraj told on his facebook wall – "2014 starts of with what I'd like to believe is an experiment. It's an experiment in narration, conception, casting and execution..and it's called 7th DAY ,a police officer under suspension, David Abraham, and before you go "not again" and at the risk of sounding cliched, I must tell you that this one cop definitely has a twist in the tail" .
This was around the release of London Bridge but he was more vocal about his role on 7th day than promoting the movie which was about to hit theaters which clearly indicated on which movie he laid higher hopes on. 7th day is all set to release this Friday and from Prithviraj's salt and pepper look to movie's teasers and stills , everything looks heavily impressive. Will Prithvraj's tryst with police roles once again prove lucky for him ? We will know in 2 days from now.