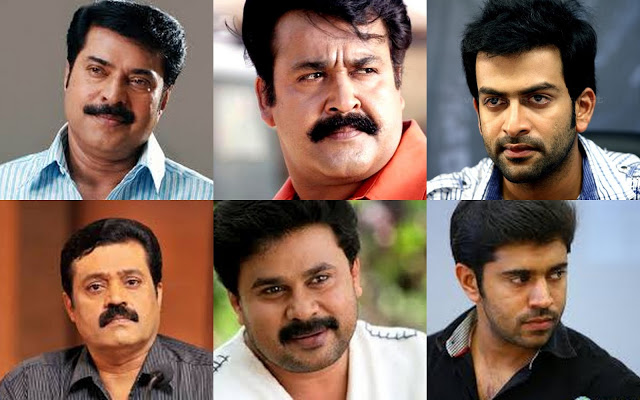 I see a lot of posts and statuses around Nivin Pauly being called the new superstar in town. Which poses a quite interesting question -When do leading actors get promoted to the tag – "Superstar" ? Do they have to really prove themselves in all genres , find wide acceptance among all age groups, win awards and pull audience to theaters on their own to be given that tag ? If one look outside our state at other languages it is easy to understand 'Superstar' and 'great performer' – both are never same!
For some reason in Malayalam , we tend to believe in a different definition for Superstar and that is mostly because the two legends – Mammootty and Mohanlal had always been both phenomenal performers apart from just superstars which had always set such a great benchmark for the actors to follow .
Mohanlal and Mammotty had already state awards in their kitty , had obviously done movies belonging to different genres and perhaps no one would have had a hinge of doubt when they were named Superstars in 1986's Rajavinte Makan and 1987's New Delhi respectively. But the same cannot be said about Suresh Gopi whose rise to stardom in 1993 could have been a huge surprise to many .Because forget prior impactful performances or awards, if you look at his career graph before 1993 , it might not feature half the number of solo hits as Nivin has today !
Yet media or the audience had no hesitation in calling Suresh Gopi a superstar in 1993 because he was that good in Ekalavyan . He sceen presence was fabulous and quite importantly he gave you that "goosebumps" in several scenes especially his face-offs with Narendra Prasad . Here is why I believe "goosebumps" is perhaps the most important word when it comes to the transformation or rather promotion to stardom !
This is one word that has always made sure Jayaram and Dileep were kept away from the stardom despite being so popular among the family audience. Because they had never really been able to send their audience frenzy with any of their expressions, dialogues or mannerisms in movies. Their attempts to achieve that through action movies have consistently seen failures too ( perhaps only barring Dileep's runway)
When Prithviraj knocked down Bala in the interval of 2009's Puthiya Mukham and the college students split in two ways to allow him to walk off in style , it was the fourth such instance where media decided to call an actor in Malayalam a Superstar. A movie that released with such little expectations and which basically was poor for most part was a huge money spinner thanks to the interval sequence and Prithviraj's knockout performance. Today many might still not put him in the same bracket as M&M or Suresh Gopi but there is no denial that whether an crowned or uncrowned superstar , he remains the most successful leading actor and crowd puller from his generation and he has continued to find ways to give goosebumps to his fans after Puthiya Mukham too.
Now coming back to Nivin Pauly – the actor had been able to make our state's youth whistle and applaud in whatever mass scenes Premam had – when he walks in slow motion , put on cooling glass or punch down the bad guys. To achieve that in a movie that otherwise has mostly comedy and romance is indeed phenomenal. That is a strong indication that even if not today , it would not too be far when Nivin attains the stardom.
Nivin's case is further strengthened by the fact that the actor has delivered 5-6 solo hits or blockbusters in his 6 year career and quite importantly 3 of them coming out in only last 18 months. So yes, it would not be important if he had won any awards or done several movies out of his safe zone, what matters would be if he can continue to bring in youth and make them continue to whistle, clap and dance for him !