2011 is the year where we had a sweet entertaining movie – 'Salt and Pepper' which also boosted Asif Ali's career in a big way. This is the same year where Prithviraj produced and acted in two good movies – Urumi and Indian Rupee , latter which also confirmed the fact that Ranjith is among the best film makers we have today. This is also the year where Salim Kumar's national award winning Adaminte Makan with a simple and beautiful story released .But when we look back to pick the best movie of the year , the winner is the movie which was the first release of 2011 – Traffic.
Traffic which released on Jan 7th 2011 was inspired from a real event happened in Chennai and told the story of how a boy's heart was carried over a distance of 200 km within 2 hours to transplant to a film star's ailing daughter . There are a number of factors which make Traffic a great movie-  Excellent performances from the entire cast ,beautiful background music , powerful and gripping screenplay with good twists and some exceptionally well handled emotional scenes.
Many scenes leave a huge impact – the one where accident takes place , Saikumar's phone conversation with the collector where he breaks down , the one where Lena shouts at Kunjakko Boban which changes his mind , the twist in the interval point where the van goes missing and finally the nicely picturized climax . Mejo Joseph did a terrific job in  creating a haunting background score which gel well with the movie and definitely makes lot of the scenes much more effective especially the climax.
The climax is something we expected to happen but still it is stunning when it beautifully captures the sense of satisfaction and relief in the characters for what they achieved. My favorite scene of the movie is the one where Sreenivasan's daughter who initially avoided him after he was involved in a bribe case comes to her house filled with neighbours watching the news praising her father and when she turns at her mother and smiles.That was an amazing scene showing how an average traffic constable turned a hero within the span of 2 hours and also won back his daughter's heart.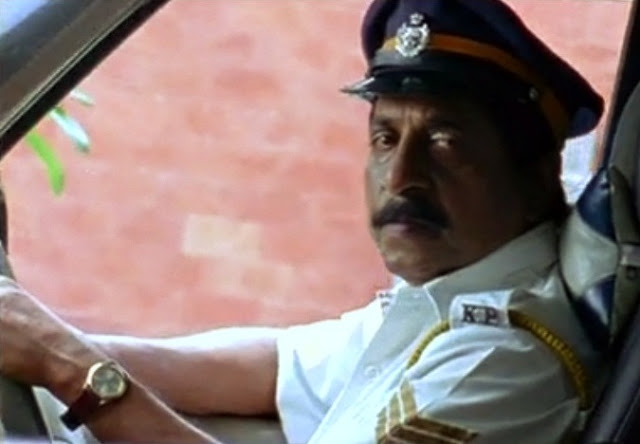 The casting is so perfect that its almost difficult to imagine someone else playing at least four of the main characters – Saikumar as Raihan's father, Lena as the ailing girl's mother , Anoop Menon as the Police Commissioner and Asif Ali as Raihan's friend all portrayed thier characters brilliantly. Sreenivasan gave a restrained performance as the constable .
After a long time , Rahman was seen doing a great job and Kunjakko Boban continued his good work after his comeback. 
While most of the credit went to Bobby and Sanjay for creating a gripping screenplay, Traffic's director Rajesh Pillai also deserves special mention for getting all the pieces together and making a brilliant movie which hardly had any flaws.
Traffic is one of those rare movies where its moments and characters stay with you for long after watching the movie. This would be one of those movies which people after years turn back and remember as a classic. Definitely my favorite movie of this year.