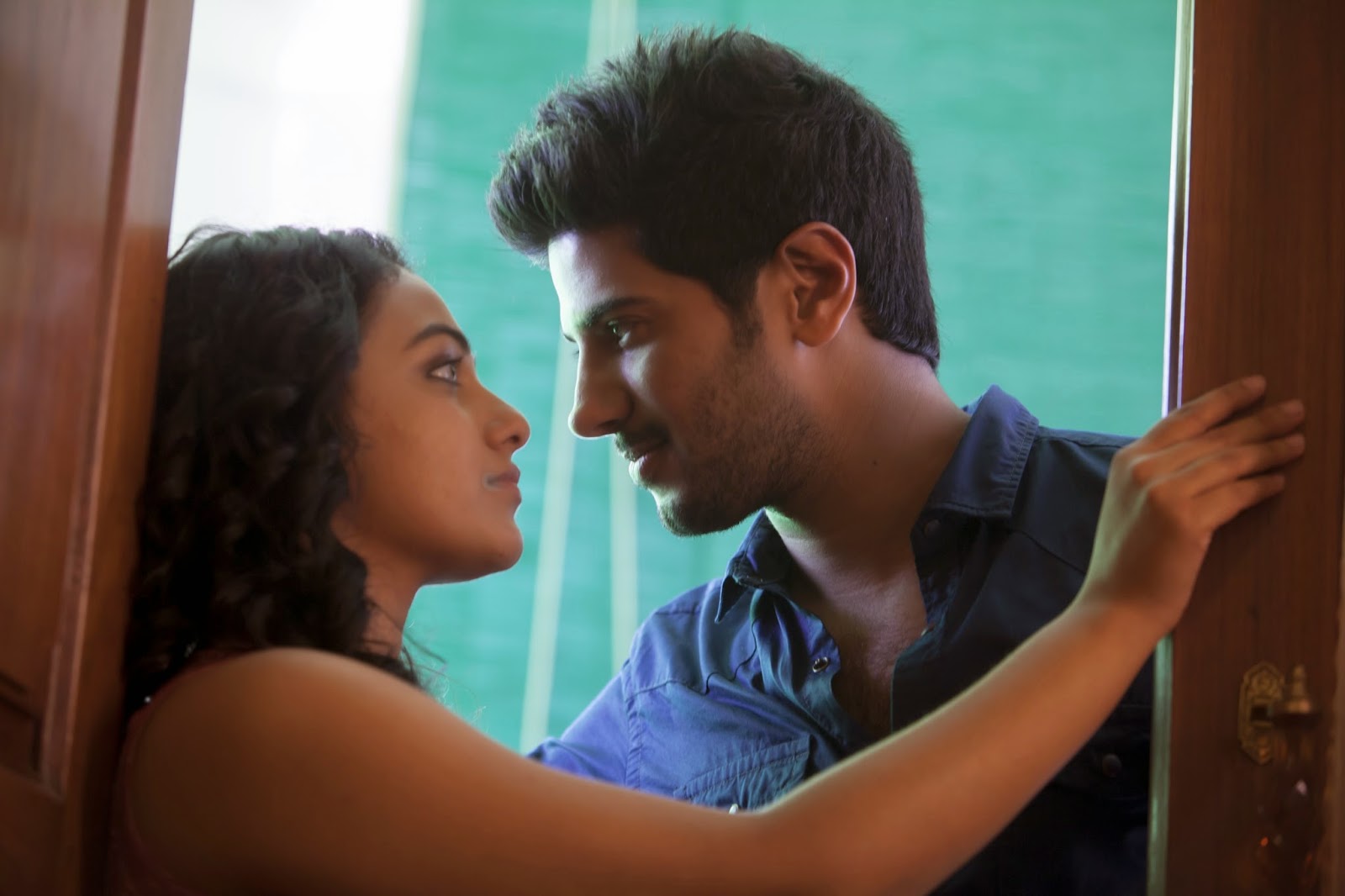 Mani Ratnam respects and believes a great deal in the institution of "Marriage". In 1986's Mounaragam, to the girls who were forced into wedlocks which they don't approve of, he told that it could mark the beginning of a new love story.  In 2000's Alaiypayuthe, to the lovers who flee from their houses , marry and then start to realize the harsh realities of married life , he told that with only little compromises, there are still ways to love each other and stay in the marriage.
After another 15 years, in OK Kanmani,  he once again passes on a message to today's youth on  still how important and valuable this bond is. In the process, the legendary filmmaker also makes a grand return to form with several moments from the movie taking us back to that great genius who had given us classics aplenty over the years.
OK Kanmani tells the story of Aadi ( Dulquer) and Tara(Nithya Menen) and the six months of their lives together in Mumbai. Only few minutes into the movie when the lead pair exchange their phone numbers in a church , call over mobile and talk from either sides as their mutual friend's wedding ceremony happens in the background were the first signs that you are about to be treated to the old Mani Ratnam magic.
The movie then takes its own time to unravel as they continue to see each other, get closer, decide to live in together but there are plenty of cute little moments on the way that bring a smile on your face. If a sequence before the interval where Dulquers brother visit his house is hilarious, another scene in the second half where Nithya tells Prakash Raj ( their landlord) that for once she feels like staying back instead of going France is heartwarming. Mani Ratnam though reserves his best for the final 20 minutes of the movie where he seems to be in absolute command and makes sure you would leave the cinema halls on a high.

Both Dulquer and Nithya Menen should be really thrilled about the opportunity of working with the ace filmmaker which clearly shows in their performances. Especially I have not seen Nithya Menen this good in any of her previous outings. This might just be the most important movie in Dulquer's career so far. The actor seems to be really cut out for this genre named romance and it would be only surprising if his portrayal as Aadi does not land him more big offers in Tamil. Watch out for how brilliantly he handles an important conversation in the final moments of the movie as he roams with Nithya in a jeep in search of their Bhavani aunty.
Prakash Raj as always is a huge asset for any movie that he is part of and here it is no different as OK Kanmani benefits every single moment he is on screen. Leela Samson as his wife and an Alzheimer's patient is quite dignified and puts up a great performance too. A.R Rahman in a recent interview mentioned how he owes a lot to Mani Ratnam and Roja for a fabulous career .The 9 beautiful tracks and the movie's amazing background score speaks a lot of the admiration he has for the filmmaker. PC Sreeram's stunning visuals play a great role in giving the movie a fresh feel.
OK Kanmani is an immensely pleasant, breezy love story. It is undoubtedly Mani Ratnam's finest work in years. That it falls slightly short of the gems – Mounaragam and Alaiypayuthe,is never a minus. Mani Ratnam has clearly bounced back out of the lean period he had been going through over the last few years and proves that he still has it in him to churn out stories that adapt well to the changing times. As for some of my friends who stated few weeks back that 'The term -Genius comes with an expiry date' or 'This legend is still living in the past glory' , I could now get back to them and say -"Hey, you were wrong"